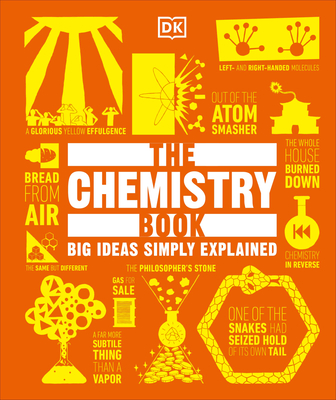 The Chemistry Book (DK Big Ideas)
Publication Date:
August 9th, 2022
The MIT Press Bookstore
2 on hand, as of Dec 8 10:45am
(JR:EF)
On Our Shelves Now
Description
Discover and understand the key ideas that underpin the core science of chemistry and learn about the great minds who uncovered them.

The Chemistry Book is packed with short, pithy explanations of some of the most historic moments in science, from the birth of atomic theory to the discovery of polyethylene and the development of new vaccine technologies to combat COVID-19. Simple graphics, such as flowcharts and mind maps, support the text and make the explanation of key concepts easy to follow.
Arranged in chronological order, the book covers key themes in the physical and natural sciences, such as geochemistry and the elements. Within each chapter, a series of articles traces the history of scientific thought and introduces the work of the scientists who have shaped the subject such as John Dalton, Marie Curie, Dmitri Mendeleev, Kathleen Lonsdale, and Stephanie Kwolek. Along the way, the book addresses some of the most fundamental questions in science, such as what is the universe made of, how is matter created, and what are the chemical bonds that make life possible?
This informative book on chemistry further features:
-Profiles more than 95 ideas and events key to the development of chemistry and natural sciences, with thought-provoking graphics throughout that demystify the central concepts behind each idea
-Features insightful and inspiring quotes from leading chemists including Nobel Laureates Marie Curie, Linus Pauling, and Osamu Shimomura, as well as thinkers in other fields
-Global in scope, covering discoveries and innovations from around the world throughout human history
-Combines creative typography, graphics, and accessible text to explore the most famous and important ideas in chemistry and the people behind them
-Includes a directory section for easy localization
Whether you are new to chemistry, a student of the sciences, or just want to keep up with and understand the latest news and scientific debates, The Chemistry Book is a must-have volume for all thinkers, learners and avid readers out there. 
At DK, we believe in the power of discovery.
So why stop there? If you like The Chemistry Book, then why not try The Biology Book, The Physics Book, and The Science Book, for a highly-engaging guide to all the sciences. Forming part of the highly-successful Big Ideas Range, whatever your preferred topic of interest, there's something for everyone to explore, learn and love!