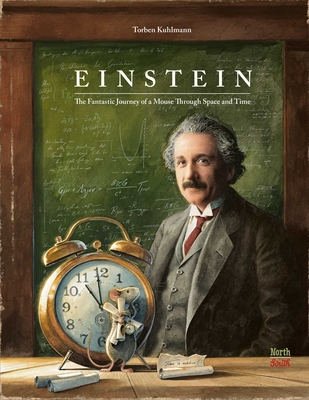 Einstein: The Fantastic Journey of a Mouse Through Space and Time (Mouse Adventures)
Publication Date:
September 7th, 2021
Publisher:
NorthSouth Books
Usually Ships in 1 to 5 Days
Einstein and his theory of relativity send the mice on an adventure to solve a problem, and ultimately to entertain us! 'Ingenious' is the perfect word to describe this fourth book in the series.
September/October 2021 Kids Indie Next List
Description
Time is relative! Award-winning illustrator Torben Kuhlmann's brilliant new book bends time and imagination.
Bank Street 2022 Best Children's Books of the Year list
September/October Indie Next Kids Pick, 2021
Society of Illustrators Original Art, 2021
National Science Teachers Association 2022 Best STEM Books, December 2021
Bronze Winner– INDIES Book of the Year Award, 2021
When an inventive mouse misses the biggest cheese festival the world has ever seen, he's determined to turn back the clock. But what is time, and can it be influenced? With the help of a mouse clockmaker, a lot of inventiveness, and the notes of a certain famous Swiss physicist he succeeds in traveling back in time. But when he misses his goal by eighty years, the only one who can help is an employee of the Swiss Patent Office, who turned our concept of space and time upside down. 
From the creator of Lindbergh–The Tale of a Flying Mouse, Moletown, Armstrong – The Adventurous Journey of a Mouse to the Moon, and Edison – The Mystery of the Missing Mouse Treasure comes Einstein. Torben Kuhlmann, in his fourth mouse adventure, explores the question: Suppose Albert Einstein's famous theories first came into being through an encounter with a little mouse?
Rave Reviews for Einstein:
His unique ability to combine fun, facts, science and biography makes Einstein a real triumph.
BookPage, Starred Review
"As in Armstrong (2016) and Edison (2018), Kuhlmann employs a mix of narrative and fantastically detailed mouse's-eye-view pencil-and-watercolor scenes to portray a small, furry investigator intrepidly tackling scientific and technological challenges in a human-sized world—here involving old records in a certain Swiss patent office, clock gears and computer parts, trial and error, and equations on chalkboards." - Kirkus, Starred Review 
Praise for Einstein: The Fantastic Journey of a Mouse Through Space and Time (Mouse Adventures)
If you've never seen a Kuhlmann book, you are in for a treat. I've always called him the Steampunk Beatrix Potter, but to be fair he's more interesting than that. Over the years Kuhlmann's books have charmed with their precision and attention to even the smallest of details. And now, at long last, we're gonna get to see some time travel.
— Betsy Bird
Kuhlmann forges another delightful, science-fueled adventure in this beautifully illustrated tale...
— Booklist
Kuhlmann's books about mice and historical figures—we've met Lindbergh, Armstrong, and Edison before—are beautifully illustrated and incredibly detailed. They're heftier than most picture books, with more pages, more text, and so many pictures. I was particularly excited about this one, of course, because it involves time travel, but they're all a lot of fun to read.
— GeekDad Blog
Another milestone in human-mouse collaboration, virtuosic of visuals and tongue in cheek of tone. (STARRED!)
— Kirkus Reviews
His unique ability to combine fun, facts, science and biography makes Einstein a real triumph. (STARRED)
— Bookpage
Time is relative, size doesn't matter, and kindred spirits can be located past and present when it comes to determination, wanderlust, curiosity, and big ideas.
— School Library Journal
The story is a primer on Einstein's theories and discoveries, and it prompts discussion on the nature of time itself.
— Foreword Magazine