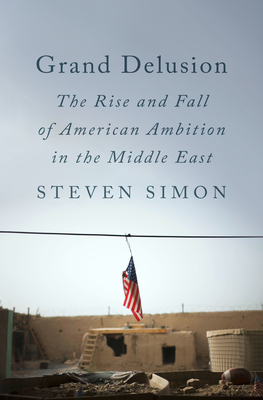 Grand Delusion: The Rise and Fall of American Ambition in the Middle East
Publication Date:
April 11th, 2023
The MIT Press Bookstore
30 on hand, as of Dec 8 10:45am
(POLSI)
On Our Shelves Now
Description
A longtime American foreign policy insider's penetrating and definitive reckoning with this country's involvement in the Middle East
The culmination of almost forty years at the highest levels of policymaking and scholarship, Grand Delusion is Steven Simon's tour de force, offering a comprehensive and deeply informed account of U.S. engagement in the Middle East. Simon begins with the Reagan administration, when American perception of the region shifted from a cluster of faraway and frequently skirmishing nations to a shining, urgent opportunity for America to (in Reagan's words) "serve the cause of world peace and the future of mankind."
Reagan fired the starting gun on decades of deepening American involvement, but as the global economy grew, bringing an increasing reliance on oil, U.S. diplomatic and military energies were ever more fatefully absorbed by the Middle East. Grand Delusion explores the motivations, strategies, and shortcomings of each presidential administration from Reagan to today, exposing a web of intertwined events—from the history of the Israel-Palestine conflict amid Israeli domestic politics, Cold War rivalries, and Saudi Arabia's quest for security, to 9/11 and the war on terror—managed by a Washington policy process frequently ruled by wishful thinking and partisan politics.
Simon's sharp sense of irony and incisive writing brings complex history to life. He illuminates the motives behind America's commitment to Israel; explodes the popular narrative of Desert Storm as a "good war"; and calls out the devastating consequences of our mistakes, particularly for people of the region trapped by the onslaught of American military action and pitiless economic sanctions.
Grand Delusion reveals that this story, while episodically impressive, has too often been tragic and at times dishonorable. As we enter a new era in foreign policy, this is an essential book, a cautionary history that illuminates American's propensity for self-deception and misadventure at a moment when the nation is redefining its engagement with a world in crisis.
Praise for Grand Delusion: The Rise and Fall of American Ambition in the Middle East
"Why American foreign policy has been so successful with other democracies in the alliance system across the postwar era, while policy and its execution across the Muslim and developing worlds has been so miserable, is an implicit contrast that this startling policy history portrays. The book provides context for yet another Gaza-Palestinian crisis." —Financial Times, Reader's Choice Best Books of the Year
"The author of this critical consideration of four decades of the U.S. government's dealings in the Middle East has held positions in the State Department and on the National Security Council, across various Administrations . . . embedded with engaging recollections." —The New Yorker
"A brilliantly written account . . . . At a time when US engagement in the region is declining while that of other actors—Russia and China—is rising, the book is very timely." —Financial Times
"A comprehensive, even magisterial review . . . This is strong stuff, but Simon does not flinch." —Foreign Affairs
"An illuminating book, written with exceeding wit and erudition." —The Washington Post

"Simon brings an insider's perspective and a broad historical sensibility to his account." —Shepherd Express
"Stocked with sharply etched portraits of statesmen, Simon's narrative elucidates complex issues in pithy, biting prose . . . Simon's insider savvy and bracing honesty make for an illuminating take on America's vexed relationship with the region." —Publishers Weekly
"As a frontline player in Middle East policy, Simon provides a sweeping, detailed analysis of failures and successes." —Kirkus
"This deeply informed memoir-history covering four decades of U.S. policy in the Middle East is laced with grace, wit, and an abundance of fresh insights. To convey a sense of empathy for policymakers in way over their heads while also calling them to account for their blunders is a neat trick—one that Steven Simon pulls off in style." —Andrew J. Bacevich, author of America's War for the Greater Middle East: A Military History
"Steven Simon's honest, unsparing insider's account of America's half-century of tragic activism in the Middle East weaves riveting eyewitness detail with the sobering judgments of an intellectual outsider—essential reading for anyone who wonders how so many smart, well-intentioned experts in one presidency after another could have gotten it so wrong." —Steve Coll
"This is a thought-provoking critique of American foreign policy in the Middle East. With unique insight as a policy insider, Steven Simon pulls no punches in this must-read book for anyone interested in America's successes and failures over the past four decades." —David Crist, author of The Twilight War
"Steven Simon shrewdly dissects four decades of policy failures in the Middle East, giving readers a vivid picture of how decision makers went off the rails and more importantly why. Readers won't find this blend of direct experience and hard analysis anywhere else." —Adam Entous, Pulitzer Prize winning reporter, The New York Times
"Steven Simon's book is both an excellent analysis and a bracing critique of American policy in the Middle East over the past decades, by someone who was at the center of making that policy. It has the immediacy of an insider's account and the cool detachment of a seasoned observer. It is an excellent teaching book as well." —F. Gregory Gause III, Texas A&M University

"Grand Delusion is a tour de force—an insightful and powerful telling of the history of US policy in the Middle East. The reader will be left both frustrated and wondering what might have been if better policy choices had been made by multiple administrations." —Michael Morell, former Acting and Deputy Director of the Central Intelligence Agency
"Steve Simon is an ideal witness to the story of America's tragic entanglements with the Middle East: deeply experienced in government, erudite, cold-eyed. He was often in the room where the decisions were made, but there is no vanity or self-promotion here. His book is an important corrective to the willful ignorance and misguided idealism that have marred so much American policy. More than that, it is a thoughtful and often lacerating memoir about the delusions that accompany great power. It should be required reading for aspiring diplomats, scholars, and anyone who cares about the risks involved in one country's efforts to reshape the world beyond its borders." —Robert F. Worth, author of A Rage for Order: The Middle East in Turmoil, from Tahrir Square to ISIS