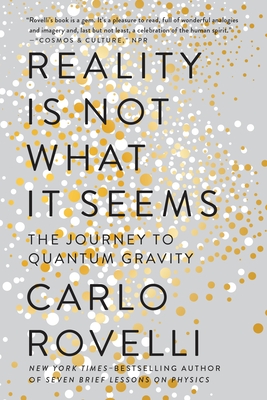 Reality Is Not What It Seems: The Journey to Quantum Gravity
Publication Date:
January 23rd, 2018
Publisher:
Riverhead Books
The MIT Press Bookstore
1 on hand, as of Sep 21 10:34am
(PHYS)
On Our Shelves Now
Description
"The man who makes physics sexy . . . the scientist they're calling the next Stephen Hawking." —The Times Magazine
From the New York Times–bestselling author of Seven Brief Lessons on Physics, The Order of Time, and the forthcoming Helgoland, a closer look at the mind-bending nature of the universe.
What are the elementary ingredients of the world? Do time and space exist? And what exactly is reality? In elegant and accessible prose, theoretical physicist Carlo Rovelli leads us on a wondrous journey from Democritus to Einstein, from Michael Faraday to gravitational waves, and from classical physics to his own work in quantum gravity. As he shows us how the idea of reality has evolved over time, Rovelli offers deeper explanations of the theories he introduced so concisely in Seven Brief Lessons on Physics. Rovelli invites us to imagine a marvelous world where space breaks up into tiny grains, time disappears at the smallest scales, and black holes are waiting to explode—a vast universe still largely undiscovered.
Praise for Reality Is Not What It Seems: The Journey to Quantum Gravity
"Some physicists, mind you, not many of them, are physicist-poets. They see the world or, more adequately, physical reality, as a lyrical narrative written in some hidden code that the human mind can decipher. Carlo Rovelli, the Italian physicist and author, is one of them…Rovelli's book is a gem. It's a pleasure to read, full of wonderful analogies and imagery and, last but not least, a celebration of the human spirit."—NPR Cosmos & Culture
 
"If your desire to be awestruck by the universe we inhabit needs refreshing, theoretical physicist Carlo Rovelli…is up to the task."—Elle
"[Reality Is Not What It Seems] is simultaneously aimed at the curious layperson while also useful to the modern scientist… Rovelli lets us nibble or gorge ourselves, depending on our appetites, on several scrumptious equations. He doesn't expect everyone to be a master of the equations or even possess much mathematical acumen, but the equations serve as appetizers for those inclined to get their fill, so to speak."—Raleigh News & Observer
"With its warm, enthusiastic language and tone, [Seven Brief Lessons on Physics] is also deeply humanistic in approach, using words like elegant and beauty about a subject…that can seem impenetrably dense and abstract…Reality Is Not What It Seems takes much the same approach."—New York Magazine
"Rovelli writes beautiful prose while walking the reader through the history and concept of 'reality' and what it all means for the yet to be discovered universe and thus our own lives."—Pasadena Star-News
"Rovelli writes with elegance, clarity and charm. . . . A joy to read, as well as being an intellectual feast."—New Statesman
"Rovelli offers vast, complex ideas beyond most of our imagining—'quanta,' 'grains of space,' 'time and the heat of black holes'—and condenses them into spare, beautiful words that render them newly explicable and moving."—On Being with Krista Tippett
"Rovelli's lyrical language, clarity of thought, and passion for science and its history make the title a pleasure to read (albeit slowly), and his diagrams and footnotes will allow readers to understand the material better and tackle a more expert level of insight."—Booklist
"Rovelli smoothly conveys the differences between belief and proof. . . his excitement is contagious and he delights in the possibilities of human understanding."—Publishers Weekly
"Science buffs will admire Rovelli's lucid writing…Cutting-edge theoretical physics for a popular audience that obeys the rules (little math, plenty of drawings), but it's not for the faint of heart."—Kirkus Reviews
"A fascinating adventure into the outer limits of space and into the smallest atom…Rovelli manages to break down complex, proven ideas into smaller, easily assimilated concepts so those with little to no scientific background can understand the fundamental ideas…Rovelli's infectious enthusiasm and excitement for his subject help carry readers over the more difficult aspects, allowing one to let the imagination soar…An exciting description of the evolution of physics takes readers to the edge of human knowledge of the universe."—Shelf Awareness
"Rovelli draws deep physics into the light with rather greater success... He wears a broad erudition lightly, casually and clearly explaining."—Read It Forward