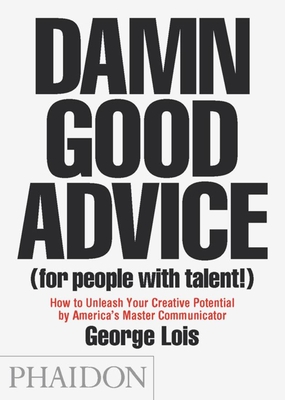 Damn Good Advice (For People with Talent!): How To Unleash Your Creative Potential by America's Master Communicator
Publication Date:
March 12th, 2012
The MIT Press Bookstore
1 on hand, as of Dec 6 1:49pm
(BUSIN)
On Our Shelves Now
Description
Damn Good Advice (for people with talent!) is an indispensable insight into the mind of one of America's most legendary creative thinkers. Packed with lessons, practical advice, facts, anecdotes and inspiration, this book is a timeless creative bible for all those looking to succeed in life, business and creativity. Derived from the incomparable life of 'Master Communicator' George Lois, all entries are written and compiled by the man the Wall Street Journal called 'prodigy, enfant terrible, founder of agencies, creator of legends'. Each step is borne from a passion to succeed and a disdain for the status quo.
Organised into inspirational, bite-sized pointers, each page offers fresh insight into the sources of success. From identifying your heroes to believing in yourself; the ideas, images and illustrations presented in this book are fresh, witty and in-your-face. Whether it be communicating your point in nanosecond, creating an explosive portfolio or making your presence felt, no one is better placed than George Lois to teach you the process of creativity.
Poignant, punchy and to-the-point, Damn Good Advice (for people with talent!), is a must for anyone – whether in business, design, advertising or the visual arts – on a quest for success.
Praise for Damn Good Advice (For People with Talent!): How To Unleash Your Creative Potential by America's Master Communicator
'George Lois doesn't need advice. But the designer for whom legendary ad man is practically a Homeric epithet has loads to share in Damn Good Advice (for people with talent!), a slim, fast-paced collection.' – Print Magazine
'George Lois's brain is an interesting place ... Get inspired gentlemen.' – Urban Daddy Kempt
'Put Damn Good Advice on your coffee table and thumb through it daily for some insight on how to make your work and world better.' – Selectism
'It's an entertaining read, even for people outside the creative business.' – New York Times
'In the meantime, my best (damn) advice to all you creative people out there (and if you're livin' this means you) is to pick up your very own copy of Georges' Damn Good Advice - a bargain at thrice the price – and read it (and re-read it) to tatters. We all need our heroes.' – GQ
'This ad man is Mad man.' – New York Post
'An Innovation Bible ... A must-have spine stiffener for artists and entrepreneurs alike.' – Huffington Post
'George Lois offers indispensable lessons, practical advice, facts, anecdotes, and inspiration for all those looking to succeed in life, business, and creativity.' – NPR's Morning Edition
'An irreverent, playful, genuinely useful set of rules to live by for aspiring creatives.' – Details