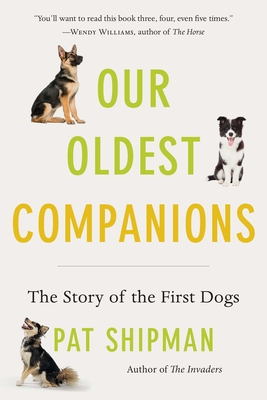 Our Oldest Companions: The Story of the First Dogs
Publication Date:
October 10th, 2023
The MIT Press Bookstore
1 on hand, as of Nov 30 10:32am
(NATUR)
On Our Shelves Now
Description
"A lively tale of dog domestication and migration."--Nature
"When, where, and how did the partnership between dogs and humans begin? Was it an accident? Was it inevitable?...A tour de force drawing together under one proverbial roof what science can tell us to date."--Wendy Williams, author of The Horse
"Makes a remarkable story out of the long partnership between humans and dogs."--Foreword Reviews
How did the dog become man's best friend? A celebrated anthropologist unearths the mysterious origins of the unique partnership that rewrote the history of both species.
Dogs and humans have been inseparable for more than 40,000 years. So what have they taught one another? Determined to untangle the genetic and archaeological evidence of the first dogs, Pat Shipman follows the trail of the wolf-dog, neither prehistoric wolf nor modern dog, whose bones offer tantalizing clues about the earliest stages of domestication. She considers the enigma of the dingo, not quite domesticated yet not entirely wild, and reveals how scientists are shedding new light on the origins of the unique relationship between man and dog, explaining how dogs became our guardians, playmates, shepherds, hunters, and providers. Along the way, dogs have changed physically, behaviorally, and emotionally--but we have been transformed, too. A brilliant work of historical reconstruction, Our Oldest Companions shows that we can't hope to understand our own species without recognizing the central role dogs have played in making us who we are.