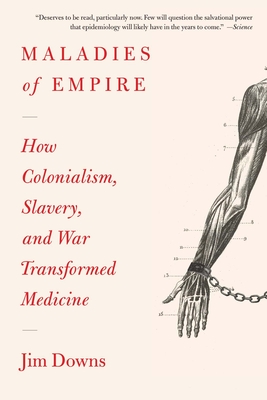 Maladies of Empire: How Colonialism, Slavery, and War Transformed Medicine
Publication Date:
October 10th, 2023
The MIT Press Bookstore
2 on hand, as of Nov 29 10:27am
(BIOMD)
On Our Shelves Now
Description
"Maladies of Empire has a captivating writing style, is exhaustively researched, and is persuasive in argumentation. Jim Downs has written a game-changing book."--Deirdre Cooper Owens, author of Medical Bondage: Race, Gender, and the Origins of American Gynecology
"An eye-popping study of the history of infectious diseases, how they spread, and especially how they have been thwarted by experimentation on the bodies of soldiers, slaves, and colonial subjects...a timely, brilliant book about some of the brutal ironies in the story of medical progress."--David W. Blight, author of Frederick Douglass
"Brilliant...Jim Downs uncovers the origins of epidemiology in slavery, colonialism, and war. A most original global history, this book is required reading for historians, medical researchers, and really anyone interested in the origins of modern medicine."--Sven Beckert, author of Empire of Cotton
" Sheds] light on the violent foundations of disease control interventions and public health initiatives and] implores us to address their inequities in the present."--Ragav Kishore, The Lancet
Most stories of medical progress come with ready-made heroes. John Snow traced the origins of London's 1854 cholera outbreak to a water pump, leading to the birth of epidemiology. Florence Nightingale's care of soldiers in the Crimean War revolutionized medical hygiene. Yet focusing on individual innovators ignores many of the darker, unacknowledged sources of medical knowledge.
Reexamining the foundations of modern medicine, Jim Downs shows that the study of infectious disease depended crucially on the unrecognized contributions of conscripted soldiers, enslaved people, and subjects of empire. From Africa and India to the Americas, plantations, slave ships, and battlefields were the laboratories where physicians came to understand the spread of disease. Boldly argued and urgently relevant, Maladies of Empire gives a long overdue account of the true price of medical progress.