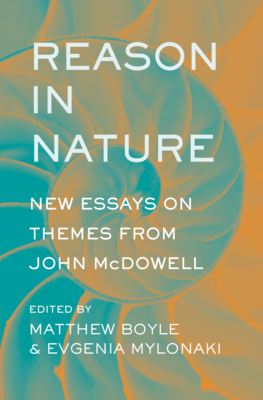 Reason in Nature: New Essays on Themes from John McDowell
Publication Date:
December 6th, 2022
Publisher:
Harvard University Press
The MIT Press Bookstore
1 on hand, as of Dec 7 10:28am
(PHILO)
On Our Shelves Now
Description
A group of distinguished philosophers reflect on John McDowell's arguments for nonreductive naturalism, an approach that can explain what is special about human reason without implying that it is in any sense supernatural.
John McDowell is one of the English-speaking world's most influential living philosophers, whose work has shaped debates in mind, language, metaphysics, epistemology, meta-ethics, and the history of philosophy. A common thread running through McDowell's diverse contributions has been his critique of a form of reductive naturalism according to which human minds must be governed by laws essentially similar to those that govern the rest of nature. Against this widely accepted view, McDowell maintains that human minds should be seen as "transformed" by reason in such a way that the principles governing our minds, while not supernatural, are in an important sense sui generis.
Editors Matthew Boyle and Evgenia Mylonaki assemble a group of distinguished philosophers to clarify and criticize McDowell's core position and explore its repercussions for contemporary debates about metaphysics and epistemology, perception, language, action, and value. The essays here scrutinize the core idea that human reason constitutes a second nature, emerging from humanity's basic animal nature, and reflect on the underpinnings of McDowell's claims in Aristotle, Kant, and Hegel. Many of the contributors extend McDowell's views beyond his own articulations, elaborating the transformative role that reason plays in human experience.
In clarifying and expanding McDowell's insights, Reason in Nature challenges contemporary orthodoxy, much as McDowell himself has. And, as this collection makes clear, McDowell's unorthodox position is of enduring importance and has wide-ranging implications, still not fully appreciated, for ongoing philosophical debates.