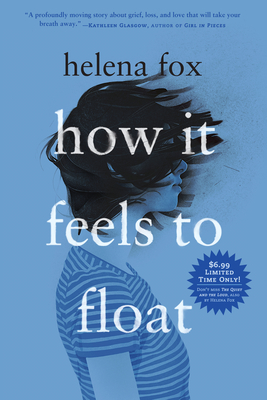 How It Feels to Float
Publication Date:
April 4th, 2023
The MIT Press Bookstore
1 on hand, as of Dec 5 4:07pm
(JR:YA)
On Our Shelves Now
Description
"Profoundly moving . . . Will take your breath away." —Kathleen Glasgow, author of Girl in Pieces
"Give this to all your friends immediately . . . It tackles mental health, depression, sexual identity, and anxiety with beauty and empathy." —Cosmopolitan.com
A Kirkus Reviews Best Book of the Year
A Chicago Public Library Best of the Best of the Year
Biz knows how to float, right there on the surface—normal okay regular fine. She has her friends, her mom, the twins. She has Grace. And she has her dad, who shouldn't be here but is. So Biz doesn't tell anyone anything—not about her dark, runaway thoughts, not about kissing Grace or noticing Jasper, the new boy. And not about seeing her dad. Because her dad died when she was seven.
But after what happens on the beach, the tethers that hold Biz steady come undone. Her dad disappears and, with him, all comfort. It might be easier, better, sweeter to float all the way away? Or maybe stay a little longer, find her father, bring him back to her. Or maybe—maybe maybe maybe—there's a third way Biz just can't see yet.
Debut author Helena Fox tells a story about love, grief, and inter-generational mental illness, exploring the hard and beautiful places loss can take us, and honoring those who hold us tightly when the current wants to tug us out to sea.
"I haven't been so dazzled by a YA in ages." —Jandy Nelson, author of I'll Give You the Sun (via SLJ)
"Mesmerizing and timely." —Bustle
"Nothing short of exquisite." —PopSugar
"Immensely satisfying" —Girls' Life
* "Lyrical and profoundly affecting." —Kirkus (starred review)
* "Masterful...Just beautiful." —Booklist (starred review)
* "Intimate...Unexpected." —PW (starred review)
* "Fox writes with superb understanding and tenderness." —BCCB (starred review)
* "Frank [and] beautifully crafted." —BookPage (starred review)
"Deeply moving...A story of hope." —Common Sense Media
"This book will explode you into atoms." —Margo Lanagan, author of Tender Morsels
"Helena Fox's novel delivers. Read it." —Cath Crowley, author of Words in Deep Blue
"This is not a book; it is a work of art." —Kerry Kletter, author of The First Time She Drowned
"Perfect...Readers will be deeply moved." —Books+Publishing
Praise for How It Feels to Float
"I haven't been so dazzled by a YA in ages. . . . Biz's voice is wild and rollicking, lyrical and hilarious, utterly authentic . . . There isn't a false note." —Jandy Nelson, author of I'll Give You the Sun (via School Library Journal)
"[How It Feels to Float] explores intergenerational mental illness in a way that is nothing short of exquisite." —PopSugar
"A profoundly moving story about grief, loss, and love that will take your breath away. Helena Fox is a writer to be reckoned with." —Kathleen Glasgow, author of Girl in Pieces
"If you've read Anna Borges's story for The Outline "I Am Not Always Very Attached To Being Alive," you are perhaps already acquainted with the idea of "treading to stay afloat" when living with mental illness. In How It Feels To Float, author Helena Fox tells the story of a young woman floating through life, struggling to hide her dark thoughts and a past marked by intergenerational mental illness. —Bustle
"How It Feels to Float is technically a YA novel, but I'm not talking Twilight YA. I'm talking give-this-to-all-your-twenty-something-friends-immediately YA. This book will relate to anyone that's lived through the confusing mind-f*ck that is being a high school girl. More than that, it tackles mental health, depression, sexual identity, and anxiety with beauty and empathy as protagonist Biz comes to terms with the death of her father amid a devastating social fall-out." —Cosmopolitan.com
"Beautifully written, Biz's story (of dark thoughts, grief and questioning her sexuality) is subtly revealed and immensely satisfying as she slowly unravels and puts herself together again." —Girls' Life
"Teens who don't want to be labeled, who don't conform to checklists of attributes or fall into tidy boxes, will relate hard to this book about a girl who wants, very badly at times, to float away, but who ultimately finds herself . . . Full of life, resplendent with sensory details, lush descriptions, clever and witty narration, and a beating heart that will make yours swell with feeling." —B&N Teen Blog
★ "Lyrical and profoundly affecting, providing a nuanced account of the hereditary effects of trauma. Haunting." —Kirkus (starred review)
★ "Biz is smart, funny, and self-deprecating . . . [How It Feels to Float is] a masterful portrayal of mental illness that illuminates the complex interplay between emotional trauma and the mind's subsequent recoil. And the writing is just beautiful." —Booklist (starred review)

★ "Exquisite . . . Through lyrical first-person narration, Fox empathically conveys the hereditary nature of Biz's illness, its disorienting manifestations, and the limitations and power of love to heal." —Publishers Weekly (starred review)
★ "Fox writes with superb understanding and tenderness . . . The poignant depiction of depression is leavened by secondary characters who love Biz, ranging from Jasper's photographer grandmother to Jasper himself and even to Biz's doomed dad, who may have lost to his demons but who has a larky beauty that lights up the pages. . . . Ambiguity enhances the beautiful, unsteady shimmer of Biz's story." —BCCB (starred review)
★ "This is a frank story of mental illness, loss, and sexual identity, and Fox responsibly concludes her story with information and support services for readers facing similar issues. How It Feels to Float is a beautifully crafted story of finding hope and love when both appear to be gone forever." —BookPage (starred review)
"A YA The Bell Jar with a ghostly twist, [and an] honest, nuanced portrayal of grief and life with mental illness. . . . A mesmerizing and timely debut." —Bustle
"Beautifully written and deeply moving . . . Just as much a story of hope and the power of love and friendship." —Common Sense Media
"This book will explode you into atoms, put you back together, and return the new shape of you to earth. Alive with sensation and rich in thought and feeling, How it Feels to Float intensively explores what it's like to be here now." —Margo Lanagan, author of Tender Morsels

"Impossibly beautiful, life-affirming, profound. This is not a book; it is a work of art." —Kerry Kletter, author of The First Time She Drowned
 
"Every now and then you pick up a novel and you know you've found something wonderful—a glorious voice, a character you adore. Helena Fox's novel delivers. It is exquisite. Read it." —Cath Crowley, author of Words in Deep Blue

"It is a testament to Helena Fox's immense skill as a writer that all the disparate elements come together seamlessly in an intense, intimate portrait of a teenage girl. Like Biz in the darkroom, the author dodges and burns, keeping her characters moving, exposing them to the light." —The Saturday Paper

"A perfect, surreal exploration of mental illness and grief. Fox's writing is poetry, bringing the reader to the brink of Biz's madness and back again as she finds new ways to make meaning, and new people to make it with. . . . How It Feels to Float is a visceral reading experience that captures the way in which many teens struggle with mental illness. It is a lesson in acceptance and understanding, and readers will be deeply moved." —Books+Publishing