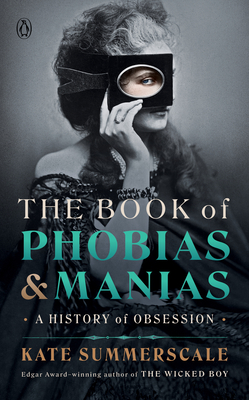 The Book of Phobias and Manias: A History of Obsession
Publication Date:
September 27th, 2022
Usually Ships in 1 to 5 Days
Description
From the winner of the Edgar Award and the Samuel Johnson Prize, a cultural history of "everyday madness"
The Book of Phobias and Manias is a thrilling compendium of 99 obsessions that have shaped us all, the rare and the familiar, from ablutophobia (a horror of washing) to syllogomania (a compulsion to hoard) to zoophobia (a fear of animals).
 
Phobias and manias are deeply personal experiences, and among the most common anxiety disorders of our time, but they are also clues to our shared past. The award-winning author Kate Summerscale uses rich and riveting case studies to trace the origins of our obsessions, unearthing a history of human strangeness, from the middle ages to the present day, and a wealth of explanations for some of our most powerful aversions and desires.
Praise for The Book of Phobias and Manias: A History of Obsession
"With its remarkable range of disorders and the incredible Scrabble-pleasing array of words (of which hippopotomonstrosesquipediophobia is sure to be a crowd pleaser), The Book of Phobias & Manias offers bizarre histories with wry humor and surprises, but also moments of sober revelation." — Wall Street Journal
"Informative, fascinating, and macabre."—Psychology Today
"Fascinating . . . Exquisitely detailed and consistently insightful, this is an entertaining guide to humanity's compulsions." —Publishers Weekly
 
"99 hard-to-stop-reading histories . . . from the familiar (homophobia) to surprising fears of eggs, hair, silence and everything (pantophobia). Did you know that Oprah is afraid of balloons?" —Chicago Tribune
"Informative, witty, and unique . . . Summerscale, author of The Suspicions of Mr. Whicher and other well-regarded books, lists 99 fears and compulsions, and the result is a peculiarly engaging book." —Kirkus  
Praise for THE HAUNTING OF ALMA FIELDING:
 
"About women and power, about anxiety of the unknown and the fear of looming war, about the choices people make (consciously or unconsciously) in order to escape certain aspects of their lives . . . Summerscale's writing is so inviting, the historical details folded into the narrative so well, that The Haunting of Alma Fielding reads like a novel you don't want to put down." —Ilana Masad, NPR
 
"Delightful period piece . . . always prescient about the social status of the women she studies, Summerscale notes that Alma was the very model of a colorless, faceless, powerless housewife. But a housewife with psychic powers could escape those social constraints." —Marilyn Stasio, The New York Times Book Review
 
"[A] wonderful book about the world of mediums, it deals, very soberly, with a subject that's often treated in a very trivial way. If I could have created a non-fiction companion for my novel Beyond Black, that would be the book." —Hilary Mantel, BBC Radio 4
 
"With her eye for evocative period detail, her sensitivity to the quirks and poignancies of human motivation, and her brilliant storytelling skills, Summerscale has taken this corker of a case and made it as gripping as a novel. An engaging, unsettling, deeply satisfying read." —Sarah Waters, author of Tipping the Velvet
 
"A page-turner with the authority of history." —Philippa Gregory, author of The Other Queen