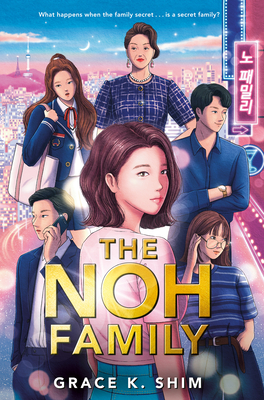 The Noh Family
Publication Date:
May 3rd, 2022
The MIT Press Bookstore
1 on hand, as of Sep 26 1:27pm
(JR:YA)
On Our Shelves Now
Description
This sparkling K-drama inspired debut novel introduces irrepressibly charming teen Chloe Chang, who is reunited with her deceased father's estranged family via a DNA test, and is soon whisked off to Seoul to join them...
When her friends gift her a 23-and-Me test as a gag, high school senior Chloe Chang doesn't think much of trying it out. She doesn't believe anything will come of it—she's an only child, her mother is an orphan, and her father died in Seoul before she was even born, and before her mother moved to Oklahoma. It's been just Chloe and her mom her whole life. But the DNA test reveals something Chloe never expected—she's got a whole extended family from her father's side half a world away in Korea. 
 
Turns out her father's family are amongst the richest families in Seoul and want to meet Chloe. So, despite her mother's reservations, Chloe travels to Seoul and is whisked into the lap of luxury . . . but something feels wrong. Soon Chloe will discover the reason why her mother never told her about her dad's family, and why the Nohs wanted her in Seoul in the first place. Could joining the Noh family be worse than having no family at all?
Praise for The Noh Family
"The Noh Family is at once a fairytale about dreams coming true entwined with deliciously sinister family secrets. It whisked me straight to the neon lights of Seoul and pulses with enough family drama for days. I didn't want to leave this captivating place that Shim has brought to life." 
- Jesse Q. Sutanto, author of Dial A for Aunties
"Compelling and whip smart, The Noh Family is at once a dazzling escape into South Korea's high society and a grounding examination of what it means to be a family. A twisty, turny, glamorous whirlwind of a book." - Sarah Suk, author of Made in Korea

"This book had me at the edge of my seat the whole way through! Filled with plot twists worthy of the best K-dramas, The Noh Family pulls you into its glamorous world and never lets go." - Axie Oh, author of XOXO and The Girl Who Fell Beneath the Sea.
"Shim deftly employs all the whirlwind romance and jaw-dropping reveals of classic K-dramas via breezy prose and vividly drawn settings to explore classism, heartbreak, identity, and manipulation amid familial and societal expectations in this enticing debut." - Publisher's Weekly
"Just like Chloe's favorite K-dramas, the novel sucks readers in from the get-go with lots of glitz, grit, and a hint of romance as well as a handsome assistant who always has an umbrella at the ready, mouthwatering descriptions of food, and cutting insights into familial and societal dynamics.
An enjoyable, pacy family drama." - Kirkus Reviews
"Inspired by K-dramas, author Grace Shim has created a fast-paced adventure story with plenty of suspense and glitter as Chloe experiences the life of a princess. Shim manages to weave in plenty of references to Korean culture throughout the story, creating a strong sense of place for the reader. Interesting main characters will engage readers and the overarching theme will give plenty for book clubs to consider." - School Library Connection