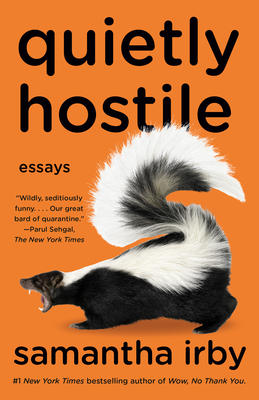 Quietly Hostile: Essays
Publication Date:
May 16th, 2023
The MIT Press Bookstore
1 on hand, as of Dec 8 10:45am
(ESSAY)
On Our Shelves Now
Description
NEW YORK TIMES BESTSELLER • A GLAMOUR BEST BOOK OF THE YEAR • A hilarious new essay collection from Samantha Irby "engages readers with her characteristic combination of laugh-out-loud moments, heartfelt passages and plenty of awkward experiences.... Quietly Hostile will delight established fans and newcomers alike (Parade).
 
"Brilliant and one of the funniest people I've ever read." —Roxane Gay • "The king of sparkling misanthropy and tender, loving dread." —Jia Tolentino
"Absolutely hilarious.... If you are feeling down, or you feel like you haven't read anything you've loved in a long time, all you need is Samantha Irby.... She will make you laugh on every page." —Emma Straub, bestselling author of This Time Tomorrow, on The Today Show
Samantha Irby's career has taken her to new heights. She dodges calls from Hollywood and flop sweats on the red carpet at premieres (well, one premiere). But nothing is ever as it seems online, where she can crop out all the ugly parts.
Irby got a lot of weird emails about Carrie Bradshaw, and not only is there diarrhea to avoid, but now—anaphylactic shock. She is turned away from restaurants for being inappropriately dressed and looks for the best ways to cope, i.e., reveling in the offerings of QVC and adopting a deranged pandemic dog. Quietly Hostile makes light as Irby takes us on another outrageously funny tour of all the gory details that make up the true portrait of a life behind the screenshotted depression memes. Relatable, poignant, and uproarious, once again, Irby is the tonic we all need to get by. 
 
A BEST BOOK from Vogue, Esquire, PopSugar, Glamour, The Skimm, and more
Praise for Quietly Hostile: Essays
A MOST ANTICIPATED BOOK from: TIME Magazine, The New York Times, Elle Magazine, Oprah Daily, TODAY, Harper's Bazaar, Lit Hub, USA Today, Entertainment Weekly, Parade, Zibby Mag, Sunset, Good Housekeeping, San Francisco Chronicle, The Millions, Electric Lit, Publishers Weekly, BookRiot, Autostraddle, The Week, She Reads, and more
A BEST BOOK: from Vogue, Esquire, PopSugar, Glamour, Barnes & Noble, The Skimm, The Philadelphia Inquirer, HuffPost UK, and BookPage
 
"Queen of the laugh-out-loud hot take . . . Perfect for a beach day [and] takes on the real issues: poop, public defecation, intimidating teens and the 'Lane Bryant that's now a Chipotle in downtown Evanston.'"
—The Chicago Tribune
 
"Hilarious. . . . Irresistible and relatable, Samantha Irby's voice is one of a kind."
—She Reads, "7 Laugh Out Loud Books by Queer Authors to Read this PRIDE"
 
"Brilliant. . . . Quietly Hostile [is] catnip . . . A thoroughly entertaining introduction for those as yet unfamiliar with her irresistible, subversive style of comedy."
—Shelf Awareness
 
"[Quietly Hostile] is filled to the brim with the author's mordant wit, cynicism and empathy. . . . There are zillions of essay collections. But few are as memorable, poignant, funny . . . and heart-filled."
—Washington Blade

"The Midwest's most loveable misanthrope, triumphantly returns. . . . Reliably and painfully funny. . . . Irby has the remarkable ability to make the utterly banal, and even the tragic, uproariously entertaining. . . . Irby simply doesn't miss."
—Chicago Reader
"A perfect book to pick up for the summer reading season."
—Busy Philipps, Busy Philipps is Doing Her Best
"Samantha Irby is absolutely hilarious. . . . if you are feeling down, or you feel like you haven't read anything you've loved in a long time, all you need is Samantha Irby. . . . She will make you laugh on every page."
—Emma Straub, The Today Show

"Irby is as delightful as ever in her latest collection of essays. . . . [she] peels back the layers of ordinary life, reveling in the truism that what you see online is only a tiny slice of the whole, hilarious picture."
—W Mag, "14 New Books to Dive Into This Summer"

"Hilarious."
—Joanna Goddard, Cup of Jo
 
"I never thought I'd be someone who laughs out loud while reading on the subway. But then I read Samantha Irby's newest collection of essays, Quietly Hostile."
—Audrey Fromson, Vanity Fair
"Expect hilarity. . . . Irby has a keen ability to root out the absurd in the mundanities of her existence and life in general, then mine that absurdity for laughs. . . . Riotously funny."
—The Washington Post
 
"Safe to say that we could all use the sweety and salty joy of a new Samantha Irby collection… Irby offers often-hilarious, sweatpants-clad missives about trying to find moments of peace in a belligerent world."
—Electric Lit, "The Most Anticipated LGBTQ+ Books for Summer 2023"
 
"Irby is as wise as she is irreverent, a keen observer of the silly and the serious, and a writer who points the lens mostly at herself with brutal honesty. . . . [a] successful addition to Irby's growing library of observational humor."
—Book Reporter
 
"Fans of laughter, assemble. Samantha Irby is back with another essay collection that's so relatable, so funny, so exactly what we needed right now that we could scream. . . . Purchase and read immediately, if not sooner."
—The Skimm, "17 of Our Favorite Books Coming Out This Summer"
 
"Warning: Do not read [Quietly Hostile], or anything else by Samantha Irby, in public if you're not willing to freak people out with uncontrollable laughter. . . . as funny as fans of Irby's work would expect."
—Vogue, "10 of the Best Beach Reads to Lose Yourself in This Summer"
 
"No one describes the human body quite like Irby. She's a poet of embarrassment: Her confessional style is frank and unashamed. . . . her writing about the great transition from being 'young and lubricated' to middle-aged is reliably moving in its own way, and consistently hilarious."
—The Atlantic
 
"Samantha Irby is one of the funniest writers on this planet."
—GQ
"Whatever she's writing, Irby brings a singular biting humor and sneaky charm that has you laughing out loud."
—Vulture
"Samantha Irby knows her shit—figuratively and, as fans of her bitches gotta eat! blog and four collections of personal essays know, quite literally. . . . In Irby's able hands, the embarrassing can be harrowing and hilarious, but it seldom takes on the patina of shame."
—Lisa Kennedy, Kirkus Reviews
 
"When was the last time you actually laughed out loud while reading something? For me, it was the very first page of Samantha Irby's new book, Quietly Hostile. . . . [Irby] is a master of writing humor pieces that hinge on relatability and 'I can't believe she said just that' realness."
—Aliza Abarbnel, Girls' Night In
 
"A fresh collection from the New York Times best-selling essayist that will have you in pieces. . . . Irby approaches each essay with humour and honesty enough for anyone needing a light-hearted perspective on relatable issues."
—HuffPost (UK)
"Sam Irby is brilliant and one of the funniest people I've ever read."
—Roxane Gay
 
"Delightful. . . . while Irby jests . . . that her work is 'not meant to be studied,' there's much to learn from an essay writer who creates literary currency out of commiseration and coping."
—Esquire

"Wickedly smart and perceptive."
—Kate Bittman, The Bittman Project
"Reading Irby's work is like you're belly up at a bar, shooting the s--t and peeling off the layers of your humanity with a hilarious confidant in a judgment-free zone."
—Shondaland
 
"In true Irby fashion, as you work your way through the collection, you'll laugh, you'll cry, and you'll begin to think about popular culture in a new and exciting way."
—Elle
 
"Uproariously funny. . . . To read Irby . . . is to discover a secret chronicler of our private humiliations and small joys. . . . No line is overwrought; each unflinching thought unravels like a gift in your favorite group chat.
—Mother Jones
 
"Deeply funny and consistently self-deprecating, Irby explores familiar and fantasy-based subjects with a confessional directness that's the textual equivalent of a breath of fresh air."
—Houston Chronicle
 
"Nonchalant yet authoritative. . . . [Irby] races back and forth between self-deprecation and scalding humor, never once missing a stroke. . . . Quietly hostile, sure, but also loudly irresistible."
—NPR
 
Quietly Hostile dives into the experience of being a famous writer with Irby's signature humor and wit."
—WNYC
 
"A masterclass in situating pitch-perfect comedy and deep sincerity side by side. . . . Irby is a truly hilarious writer and mines laughs from the wildest situations."
—BookPage
 
"Outrageously funny."
—NewCity Lit

"[Irby] writes with the confessional abandon of someone proudly in her cropped-palazzo-pants-and-smooth-jazz era. . . . Her distinct voice—honed to irreverent perfection."
—W Mag
"One of our finest comic writers returns with a gut-busting variety pack of intimate essays. As ever, Irby shines. . . . Bracing and brutally honest, Quietly Hostile reminds us why Irby is one of our most essential essayists."
—Esquire, "The Best Books of Spring 2023"
"In case you haven't wet yourself laughing recently. . . . One of our culture's greatest humorists is back with another collection. . . . Irby is the answer to your boring airplane ride, the writer to lure you back after a long reading dry spell, and the ideal person onto which to project a parasocial relationship."
—Glamour, "The 15 Best Nonfiction Books of 2023, So Far"
"Has anyone else written so movingly about Trader Joes?"
—The New York Times, "13 New Books Coming in May"
 
"To know Samantha Irby's sidesplitting work is to love it. . . . Quietly Hostile flips between the poignant and the snidely hilarious. . . . even the quirks hold rich meaning."
—TIME, "Here Are the 11 New Books You Should Read in May"
 
"Irby is one of the funniest essay writers today, and her new collection is sure to make fans and first-time readers laugh out loud."
—BookRiot, "May 2023 Horoscopes and Book Recommendations"
 
"Irby's latest is unflinching, honest, and absolutely hilarious. Wherever you take this book . . . you'll laugh through it." 
—Harper's Bazaar, "Escape Into the 20 Best Summer Beach Reads of 2023"
 
"Irby engages readers with her characteristic combination of laugh-out-loud moments, heartfelt passages and plenty of awkward experiences. . . . Quietly Hostile will delight established fans and newcomers alike."
—Parade, "*Spring* Into These 10 New Books That'll Completely Captivate You This Season"

"It's always entertaining to see Irby—a first-rate, self-deprecating mind—riff on the oddities of her own life. . . . what's most endearing about this new collection is that the voice is always brazenly, unapologetically hers."
—The New York Times, "19 Works of Nonfiction to Read This Spring"
 
"The bottle-rocket wit behind the bestselling essay collections Wow, No Thank You and We Are Never Meeting in Real Life loosens herself like a one-woman fun-kraken on whatever topic catches her keen observational fancy: pelvic floors, rest-stop convenience stores, a deep abiding love for the Dave Matthews Band."
—Entertainment Weekly, "15 titles to shake off the winter blues"
"Pro-tip: Don't even try to drink anything while working your way through this gut-busting essay collection . . . Life can get messy, and Irby is all for getting down and dirty about it and in that, we all win."
—Good Housekeeping, "12 New Summer Books to Add to Your 2023 Reading List"
 
"The best part about reading a book by [Irby] . . . is the way she makes you laugh out loud. The next best part is when people who hear you laughing ask what you're reading and get to spread the hilarious gospel of Irby."
—GRAB Magazine
"NEW SAM IRBY!! In her fourth book, Irby brings her trademark humor and honesty to essays that reveal "all that festers beyond the glitter and the glam." Sure, she's now walked the red carpet . . . but does that mean she still isn't dealing with diarrhea and her own teeth traitorously poisoning her from within her own mouth? No!"
—Autostraddle, "114 Queer and Feminist Books Coming Your Way Spring 2023"
 
"Superstar essayist Samantha Irby is back . . . When it comes to writing, half of the struggle boils down to capturing the right "voice." Do you sound smart? Approachable? Hilarious? Samantha Irby is one of those rare writers who has conquered all three categories. . . . from public bathroom mishaps to delving deep into The Real Housewives universe. . . . Quietly Hostile stands apart."
—Bust
"Quite possibly the funniest person alive."
—Go Magazine
 
"Behind the new-found glam, Irby is just trying to keep her life together. Our friend in print is back, on point, and ready to take us with her."
—Sunset, "These New Books by Black Authors Need to Be on Your Reading List"
 
"Delightfully funny essayist Samantha Irby is back. . . . If you loved Irby's previous collections . . . don't miss this latest."
—USA Today, "12 Books by Black Authors to Read in 2023"
 
"In this comedic essay collection, Irby writes about incontinence, exhaustion, eating habits, aches and pains…all the things I, too, grapple with on the daily. The way she portrays the reality of edging deeper into your early 40s—that cognitive dissonance that occurs when you still feel like an incompetent child even though you're old enough to have pushed an incompetent child out of your own vagina—is so pitch-perfect."
—Steph Auteri, BookRiot, "These Books Made Us Feel So Seen"
"I'm guessing you need a laugh . . . Well, a Samantha Irby book always delivers. And this is no easy feat—reliable literary laughs are only achieved by the likes of David Sedaris, Trevor Noah and a handful of others."
—Samantha Schoech, San Francisco Chronicle, "8 new books to look forward to in 2023"

"A noted blogger and comedian, [Irby] is in top form in her latest."
—Steph Auteri, Book Riot, "8 Memoirs About Getting Older"
"A sprawling essay collection that humorously celebrates all manner of quirky, even socially unacceptable, behavior . . . The author's humor and wordplay positively sizzle, and her chapter titles are characteristically amusing . . . The narrative bursts with the compassion, insight, honesty, and wit that have made Irby a household name."
—Kirkus Reviews
"Wow, No Thank You author returns with a hilarious new essay collection that touches on her rotting teeth, QVC obsession, and frequent bouts of diarrhea due to Crohn's disease. All of which prove that no matter how famous Samantha Irby gets, she'll never stop being #relatable."
—TIME Magazine, "The 23 Most Anticipated Books of 2023"
"An outrageously funny offering that once again shows how Irby has become the beloved writer that she is."
—She Reads, "Best Beach Reads of Summer 2023"

"Confessional and fearless, Irby is a raw consummate personal essayist."
—Oprah Daily, "The Books We Can't Wait to Read in 2023"
 
"Irby is [one of] the most reliably hilarious essayists working now, so any time she publishes a new collection, it's cause for celebration. . . . I look forward to laughing—helplessly, breathlessly—at all of it."
—Jessie Gaynor, Literary Hub, "Lit Hub's Most Anticipated Books of 2023"

"If you've read Irby's previous collections, or even skimmed her Instagram, you're likely waiting for her next book of hilarious essays. This one sounds promising: it has a skunk on the front and covers everything from working in Hollywood, to getting a "deranged pandemic dog" . . . to being turned away form a restaurant for being dressed inappropriately. I can't wait!"
—Edan Lepucki, The Millions, "Most Anticipated: The Great 2023 A Book Preview"
 
"Wildly hilarious."
—Electric Lit, "62 Books By Women of Color to Read in 2023"
 
"Blogger-turned-bestselling author Samantha Irby is back with a new and hilariously relatable essay collection. The essays depict what it's like to balance writing for hit shows HBO's reboot of "Sex and the City" with the reality of living in a human body. Irby will have you crying and laughing."
—TODAY, "38 new books we can't wait to read in 2023"
"Irby shows off her wit, empathy, and self-deprecating humor. . . . Bouncing between irreverence and poignancy, [Quietly Hostile] keeps the laughs coming while serving up intimate personal reflection and entertaining cultural commentary. . . . Top form."
—Publishers Weekly
"At her comic best….Don't be fooled, though—there's tons of emotional depth hidden under the layers of comedy…. Irby's many fans, and anyone whose anxiety and hermit-like qualities ramped up during the pandemic, will celebrate and identify with her latest."
—Booklist, *starred review*