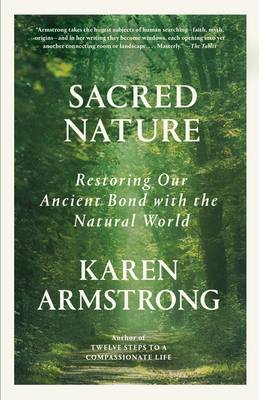 Sacred Nature: Restoring Our Ancient Bond with the Natural World
Publication Date:
September 5th, 2023
The MIT Press Bookstore
1 on hand, as of Dec 8 10:45am
(NATUR)
On Our Shelves Now
Description
From one of the most original thinkers on the role of religion in the modern world, a profound exploration of the spiritual power of nature—and an urgent call to reclaim that power in everyday life.
"Much has been written on the scientific and technological aspects of climate change.... But Armstrong's book is both more personal and more profound. Its urgent message is that hearts and minds need to change if we are to once more learn to revere our beautiful and fragile planet." —The Guardian
Since the beginning of time, humankind has looked upon nature and seen the divine. In the writings of the great thinkers across religions, the natural world inspires everything from fear, to awe, to tranquil contemplation; God, or however one defined the sublime, was present in everything. Yet today, even as we admire a tree or take in a striking landscape, we rarely see nature as sacred.
In this short but deeply powerful book, the best-selling historian of religion Karen Armstrong re-sacralizes nature for modern times. Drawing on her vast knowledge of the world's religious traditions, she vividly describes nature's central place in spirituality across the centuries. In bringing this age-old wisdom to life, Armstrong shows modern readers how to rediscover nature's potency and form a connection to something greater than ourselves.
Praise for Sacred Nature: Restoring Our Ancient Bond with the Natural World
A New Yorker Best Book of the Year
"Karen Armstrong takes the hugest subjects of human searching—faith, myth, origins—and in her writing they become windows, each opening into yet another connecting room or landscape....Masterly....Intensely beautiful....The global challenge to keep more silence, to slow down, seems formidable. But if even a few people sit down and read Sacred Nature, it will be a good start." 
—Lucy Lethbridge, The Tablet
"Armstrong has written a rich and subtle exploration of the sacredness of nature, filled with a timeless wisdom and deep humanity that comes from a lifetime spent studying religious thought...Much has been written on the scientific and technological aspects of climate change....But Armstrong's book is both more personal and more profound. Its urgent message is that hearts and minds need to change if we are to once more learn to revere our beautiful and fragile planet."
—PD Smith, The Guardian
"Armstrong's book makes a vital contribution to discussions on climate change...Her efforts and intentions here are simple: this book is not a rejection of Christianity or Western spirituality, but a rejection of the spiritual outlook that keeps us from seeing the natural world as a part of ourselves....In the face of catastrophe, Armstrong is urging us to return to the spirit." 
—Farooq Chaudhry, Chicago Review of Books
"Sacred Nature abounds in interesting facts about Asian religions, and how-to advice on calming the world's frenzy and hearing the 'still small voice' of the inner life. The book is a spiritual time capsule of the post-Christian soul in crisis, a lamentation in the key of Greta Thunberg, with undertones of Carl Jung."
—Dominic Green, The Wall Street Journal
"Grand in its reach…Armstrong's book…offers a polycontinental, multi-cultural look at the ways faith and space coexisted for centuries….It's a perfect book to emerge from a period of isolation and contemplation."
—Andrew Dansby, Houston Chronicle
"An accessible account of how a wider religious perspective might contribute to humans' adopting a more solicitous attitude to nature."
—Rowan Williams, New Statesman

"Armstrong...delivers a searching, spiritual take on climate change....The illuminating examinations of a broad array of religious traditions are thought-provoking and have the power to change the way readers see the world and humanity's place within it. Eye-opening and wide-ranging, this original take on climate change edifies."
—Publishers Weekly
"Armstrong taps into her encyclopedic knowledge to offer a way forward for a hurting world....Tying together dramatic creation tales, complex moral systems, and scriptural musings on the natural world, Armstrong argues for gratitude, mutual caregiving, and stewardship of resources, among other practices, to help bring us closer to our environment and, ultimately, to each other....Thought-provoking wisdom regarding the natural world."
—Kirkus