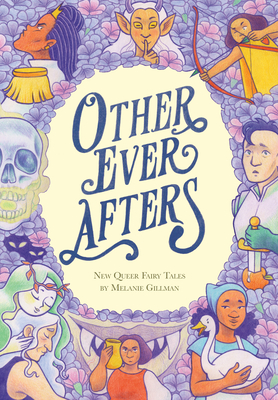 Other Ever Afters: New Queer Fairy Tales (A Graphic Novel)
Publication Date:
September 20th, 2022
Publisher:
Random House Graphic
Usually Ships in 1 to 5 Days
Description
Once upon a time . . . happily ever after turned out differently than expected. In this new, feminist, queer fairy-tale collection, you'll find the princesses, mermaids, knights, barmaids, children, and wise old women who have been forced to sit on the sidelines in classic stories taking center stage. A gorgeous all-new collection in graphic novel format from a Stonewall Honor-winning author and artist.
What if the giant who abducted you was actually thoughtful and kind? What if you didn't want to marry your handsome, popular, but cold-inside suitor? What if your one true love has all the responsibilities that come with running a kingdom?
Award-winning author Melanie Gillman's phenomenal colored-pencil art creates another "ever after" for the characters who are most worthy of it.
About the Author
Melanie Gillman is a cartoonist and illustrator who specializes in LGBTQ books for kids and teens. They are the creator of the Stonewall Honor Award–winning graphic novel As the Crow Flies and Stage Dreams. In addition to their graphic novel work, they teach in the comics MFA program at California College of the Arts. @melgillman
Praise for Other Ever Afters: New Queer Fairy Tales (A Graphic Novel)
"Fresh and exciting; sure to delight and surprise." —Kirkus Reviews
 
"A work of fresh twists and many queer happily-ever-afters for all lovers of fairy tales." —Booklist
"These inspiring, brief stories will especially resonate with readers who have always felt underrepresented or absent entirely in fairy tales, romance novels, or even their own lives." —The Bulletin
"Melanie teaches us important life lessons with their book…through their beautifully illustrated stories. And all of them with that sweet, sweet queer rep that's missing from most children's books!" —The Honey POP