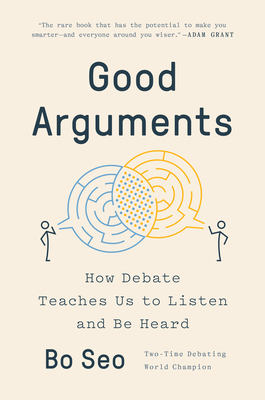 Good Arguments: How Debate Teaches Us to Listen and Be Heard
Publication Date:
June 7th, 2022
Usually Ships in 1 to 5 Days
Description
"The rare book that has the potential to make you smarter—and everyone around you wiser." —Adam Grant
Two-time world champion debater and former coach of the Harvard debate team, Bo Seo tells the inspiring story of his life in competitive debating and reveals the timeless secrets of effective communication and persuasion
When Bo Seo was 8 years old, he and his family migrated from Korea to Australia. At the time, he did not speak English, and, unsurprisingly, struggled at school. But, then, in fifth grade, something happened to change his life: he discovered competitive debate. Immediately, he was hooked. It turned out, perhaps counterintuitively, that debating was the perfect activity for someone shy and unsure of himself. It became a way for Bo not only to find his voice, but to excel socially and academically. And he's not the only one. Far from it: presidents, Supreme Court justices, and CEOs are all disproportionally debaters. This is hardly a coincidence. By tracing his own journey from immigrant kid to world champion, Seo shows how the skills of debating—information gathering, truth finding, lucidity, organization, and persuasion—are often the cornerstone of successful careers and happy lives.
Drawing insights from its strategies, structure, and history, Seo teaches readers the skills of competitive debate, and in doing so shows how they can improve their communication with friends, family, and colleagues alike. He takes readers on a thrilling intellectual adventure into the eccentric and brilliant subculture of competitive debate, touching on everything from the radical politics of Malcom X to Artificial Intelligence. Seo proves beyond a shadow of a doubt that, far from being a source of conflict, good-faith debate can enrich our daily lives. Indeed, these good arguments are essential to a flourishing democracy, and are more important than ever at time when bad faith is all around, and our democracy seems so imperiled.
Praise for Good Arguments: How Debate Teaches Us to Listen and Be Heard
"[An] enlightening introduction to the style, function, and variety of formal debate . . . Full of intriguing historical snapshots and practical advice, this is an inspiring study of how good-faith arguments can bring people together rather than tear them apart." —Publishers Weekly
"Bo Seo pulls off the hat trick of persuasion, combining crisp logic, a compelling story, and a likeable, trustworthy narrator. While his book will turn the shyest introvert into a wannabe debater, it makes a compelling argument of its own: that civil disagreement can save our troubled civilization." —Jay Heinrichs, New York Times-bestselling author of Thank You for Arguing
"At a time of polarization and rage, we all need to learn how to disagree well—and this important, compelling and wise book should be at the heart of how we do so." —Johann Hari, New York Times-bestselling author of Stolen Focus and Lost Connections
"This is not just the electrifying tale of how Bo Seo won two world debate championships. It's also a user manual for our polarized world. I can't think of a more vital resource for learning to sharpen your critical thinking, accelerate your rethinking, and hone your ability to open other people's minds. Good Arguments is the rare book that has the potential to make you smarter—and everyone around you wiser." —Adam Grant, #1 New York Times-bestselling author of Think Again and host of the podcast WorkLife
 
"Good Arguments is a book so timely and needed in this fraction-ing world we are living in. It assumes that a quarrel is something you first have with yourself, get it out of the way and start to respect and listen to the person across the room from you. Seo has written a book that forces us to think and then speak as the philosopher he knows is right on the tip of every tongue. This book is brilliant and a pleasure to read; in the end, he instructs us not to win but to convince and unexpectedly, it teaches how to persuade for words are deployed as weapons of love." —Jamaica Kincaid, author of See Now Then, Mr. Potter, and The Autobiography of My Mother
 
"In a world increasingly rent by division within and between nations, Bo Seo's lucid and humane search for 'better ways to disagree' could not be more timely or valuable." —Kevin Rudd, former Prime Minister of Australia and author of The Case for Courage
 
"I adore this beautiful story of a young person's journey from fear of conflict and altercation to embrace of wonderful disagreement and argument. In this touching memoir, debate is not a mere activity but a way of life that offers hope of a cure for a diseased society. Good Arguments is essential reading!" —Jeannie Suk Gersen, John H. Watson Jr. Professor of Law at Harvard Law School and author of A Light Inside
"From two-time world champion debater Bo Seo, a thoughtful, instructive and eloquent meditation on the art of debate and why its central pillars—fact-finding, reason, persuasion and listening to opponents—are so valuable in today's alarming ecosystem of misinformation and extreme emotion. When Bo Seo's family immigrated from South Korea to Australia, he was a shy, conflict-averse eight year old who worried about being an outsider, and in Good Arguments, he recounts how debate not only helped him to cross language lines, but also gave him confidence and a voice of his own." —Michiko Kakutani, New York Times-bestselling author of Ex Libris and The Death of Truth
"I had lots of conversations about political and social issues with Bo Seo when he was a student at Harvard, and I never felt even, for a second, that he was being disputatious or even argumentative. On the contrary, they were delightfully agreeable. Now I understand why: it was because Bo Seo is a debater, in fact, one of the best debaters in the world. If you want to learn how debating can help you become a more engaging conversationalist, a more broad-minded thinker, or even, maybe, just a better human being, you must read Good Arguments." —Louis Menand, Pulitzer Prize-winning author of The Metaphysical Club and The Free World
 
"Today, more than ever, we see the importance of navigating disagreements constructively. In his new book, Good Arguments, Bo Seo offers some tips we can all use in doing so, drawing on his deep experience as a champion debater." —Stephen A. Schwarzman, New York Times-bestselling author of What It Takes: Lessons in the Pursuit of Excellence
"Good Arguments is an antidote to spin, fake news, 'political correctness' and plain muddled thinking. Bo Seo teaches us how to listen and to be heard in both a healthy democracy and  around the kitchen table." —Gillian Triggs, author of Speaking Up and UN Assistant Secretary-General and Assistant High Commissioner for Protection with UNHCR
"This excellent book begins with the challenge faced by a schoolboy whose family moved from South Korea to Australia. From a culture where structured debate was sometimes considered a futile and impolite game to one that saw it as a call to the pleasure of discovering new ways to look at our world through the eyes of others. From school debating to university dialogue and on to witnessing global political conflict, Bo Seo identifies how debate and argument are essential to human understanding. Out of good arguments comes a synthesis. It has been so from the time of Socrates, to the world of Khrushchev and Mandela, and of Putin and Zelinsky. He argues that debate is central to human freedom even as our world faces dramatic challenges for human survival. Distinguishing 'good arguments' from unconvincing rubbish, has never been more central to human survival and to achieving love for one another." —Michael Kirby, AC CMG, former Justice of the High Court of Australia and former President of the International Commission of Jurists
"A useful reflection on how to disagree, especially important in toxic times." —Kirkus
"Lucidly recounting anecdotes and observations from his live debate sessions, Seo takes readers on a refreshing and inspiring journey . . . this illuminating book examines the fascinating world of competitive debate and offers much food for thought." —Booklist
"Good Arguments is an important book that is full of powerful insights. It should be required reading for all leaders and anyone who aspires to leadership. Bo Seo is obviously brilliant but more importantly, his writing reveals a wisdom far beyond his years. He will surely become an important voice for our time." —Dr. Jim Yong Kim, former president of the World Bank