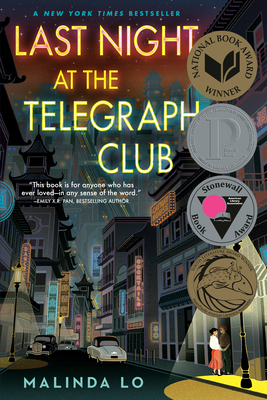 Last Night at the Telegraph Club
Publication Date:
December 28th, 2021
Publisher:
Dutton Books for Young Readers
The MIT Press Bookstore
1 on hand, as of Dec 5 4:07pm
(JR:YA)
On Our Shelves Now
It's 1950s San Francisco and Lily Hu dreams of going to the moon, or at least working on the math that will someday send a human into space. Calculations and equations are simpler than the puzzle of her own identity — especially as she becomes increasingly sure that she's queer. With a new friend who might be like her, Lily finds herself venturing into the San Francisco LGBTQ+ community, falling in love, and hiding it all from her family and friends. But keeping secrets is dangerous, especially as McCarthyism's rise puts Chinese Americans on the defensive. Thoughtful, romantic, and full of descriptions of delicious food, Lily's story is one of intersecting identities and first love.
Winter 2020 Kids Indie Next List
Description
Winner of the National Book Award
A New York Times Bestseller
"The queer romance we've been waiting for."—Ms. Magazine
Seventeen-year-old Lily Hu can't remember exactly when the feeling took root—that desire to look, to move closer, to touch. Whenever it started growing, it definitely bloomed the moment she and Kathleen Miller walked under the flashing neon sign of a lesbian bar called the Telegraph Club. Suddenly everything seemed possible. 
But America in 1954 is not a safe place for two girls to fall in love, especially not in Chinatown. Red-Scare paranoia threatens everyone, including Chinese Americans like Lily. With deportation looming over her father—despite his hard-won citizenship—Lily and Kath risk everything to let their love see the light of day.
(Cover image may vary.)
Praise for Last Night at the Telegraph Club
Winner of the National Book Award
Winner of the Stonewall Book Award
Winner of the Asian/Pacific American Award for Literature
A Michael L. Printz Honor Book
A We Need Diverse Books Walter Dean Myers Honor Book
A Los Angeles Times Book Prize Finalist
"Lo beckons readers, sentence by restrained sentence, into this incandescent novel of queer possibility."—National Book Award Winner Citation
"A vivid historical document of midcentury queer life."—Wall Street Journal
"Lo's writing, restrained yet luscious, shimmers with the thrills of youthful desire. A lovely, memorable novel about listening to the whispers of a wayward heart and claiming a place in the world."—Sarah Waters, international bestselling and award winning author of Tipping the Velvet and The Night Watch
"Exquisite and heart-shattering, Last Night at the Telegraph Club made me ache with wishing. This book is for anyone who has ever loved—in any sense of the word."—Emily X.R. Pan, New York Times bestselling author of The Astonishing Color of After
"Lily is my favorite kind of heroine: observant, loving, and startlingly brave. Malinda Lo is my favorite kind of writer, one who can bring a scene to life with exquisite detail and nuance. Last Night at the Telegraph Club is a triumph. It is the queer novel I wish I had read as a teenager, and feel lucky to have read now."—Marie Rutkoski, New York Times bestselling author of The Winner's Trilogy   
"Oh, what a wonderful novel this is! For all who ever dared to want more, much more, from life—a beautifully sensitive love story, with telling historic detail."—Susan Elia MacNeal, New York Times bestselling author of the Edgar-nominated Maggie Hope series
"Malinda Lo's Last Night at the Telegraph Club is an instant classic, the finest LGBTQIA+ romance I've read in ages. Lo has lovingly re-created 1950s San Francisco and made me feel as though I'd lived there, and her depiction of first love felt so real that I experienced it in long-since-forgotten corners of my own heart."—Bill Konigsberg, award-winning author of The Music of What Happens and The Bridge
 
"Malinda Lo's Last Night at the Telegraph Club is a beautifully observed story about finding love and fighting for one's identity against tremendous odds. In bringing a fascinating chapter of history to vivid life, this novel illuminates a path to the future through a careful understanding of our past. It's vivid, emotional, and hopeful. I loved it."—Abdi Nazemian, author of Stonewall Honor Book Like a Love Story
"A sweeping and romantic page-turner, the heart of this rich and ambitious historical novel is a love story that thrums with passion and self-discovery."—Laura Ruby, two-time National Book Award Finalist and Printz Award-winning author of Bone Gap
"An absolute masterpiece."—Randy Ribay, author of Patron Saints of Nothing, a National Book Award finalist
"Malinda Lo turns her masterful talent toward an under-covered period of San Francisco history. Last Night at the Telegraph Club is by turns gut-wrenching, utterly compelling, and deeply tender. I loved Lily fiercely, and you will too." —Rebecca Kim Wells, author of Shatter the Sky
 
"A lovely, affirming, layered, and deft coming-of-queer-age novel."—New York Times bestselling author Kate Elliott  
"Lo has really outdone herself here. I don't think I can overstate how refreshing it is to read queer historical fiction that is so complex, nuanced, and tender. It's my opinion that this book will quickly become a new touchstone of the genre of queer literature. What an accomplishment."—Sarah Gailey, award-winning author of Magic for Liars and Upright Women Wanted
"The writing is so atmospheric and detailed that I am convinced I have lived in San Francisco in the 1950s. It's a passionate, smoldering romance that perfectly captures the feelings of falling in love for the first time."—Christina Soontornvat, New York Times bestselling author and Newbery Honoree
"A beautiful representation of Chinese American culture and what it means to be a queer person of color. If I can get you to buy ONE book this year, let it be this one."—Selene from @moongirlreads_
"Lo's writing is so rich you can practically feel the glow of neon bar lights radiating off the page."—bestselling author Casey McQusiton for Entertainment Weekly
"A novel for anyone who has ever dared to wonder 'what if?'"—Lisa Yee for NPR
"Malinda Lo was, for so many of us who write and read books about queer girlhood, the first introduction to seeing ourselves on the page. Her latest book continues that legacy with this startlingly beautiful historical coming-of-age."—Leah Johnson for Reese's Book Club
"Beautifully done."—The Today Show "What to... Read" selection by Jason Mott, bestselling author of Hell of a Book.
"This stunning work of historical fiction effectively depicts both the thrills of young queer love and the horrors of racism and the Red Scare."—Boston Globe
"A must-read."—Us Weekly
"The Price of Salt meets Saving Face in this gripping historical thriller from the celebrated author of Ash.... Last Night at the Telegraph Club is proof of Lo's skill at creating darkly romantic tales of love in the face of danger."—O, The Oprah Magazine
"Lush, ambitious and layered, Malinda Lo's sweeping historical novel is the queer romance we've been waiting for."—Ms. Magazine
"A vivid must-read."—Bay Area Reporter
"Lo taps into the evocative San Francisco of yesteryear while deftly navigating McCarthyism, ethnicity, sexuality, and the 'Lavender Scare' in this striking novel that holds some unnerving contemporary parallels."—Toledo Blade
"This queer coming-out and coming-of-age story reverberates with dangers, dilemma and a dream deferred."—San Francisco Chronicle
"A journey of self-discovery that's as necessary as it is dangerous."—PopSugar.com
"An enthralling historical lesbian romance."—WBUR
"Malinda Lo is an absolute icon."—BuzzFeed
"A joy to read."—The Advocate

"Tender and meditative."—Glamour
"A gripping novel where historical fiction meets romance, Last Night at the Telegraph Club is a whirlwind read set in San Francisco's Chinatown during the Red Scare. Immersive and creative, Lo gets wrapped up in her fictitious world of adventure and adrenaline and follows Lily Hu as she seeks out the woman she loves."—Gay Times
★ "Finally, the intersectional, lesbian, historical teen novel so many readers have been waiting for."—Kirkus, starred review
★ "A must-read love story…alternately heart-wrenching and satisfying."—Booklist, starred review
★ "Last Night at the Telegraph Club is a work of historical fiction that's as meticulously researched as it is full of raw, authentic emotion.... Shout it from the highest hills: This is a beautiful, brave story, and Lily is a heroine that readers will love."—BookPage, starred review
★ "This immersive, powerful coming-of-age novel tackles perceptions, expectations, and identity while sweeping readers into smoky lesbian nightclubs and '50s culture." —BCCB, starred review
★ "Smoothly referencing cultural touchstones and places with historic Chinese American significance, Lo conjures 1950s San Francisco adeptly while transcending historicity through a sincere exploration of identity and love."—Publishers Weekly, starred review 
★ "Historically accurate and well-researched."—SLC, starred review 
★ "A riveting, emotionally stirring tale....  Last Night at the Telegraph Club—focused on unapologetically embracing one's true self—is a spectacular addition to the young adult historical fiction genre."—Shelf Awareness, starred review
★ "This standout work of historical fiction combines meticulous research with tender romance to create a riveting bildungsroman."—Horn Book, starred review 
A NPR Best Book
A Boston Globe Best Book
A Publishers Weekly Best Book
A BookPage Best Book
A SLJ Best Book
A Kirkus Best Book
A Booklist Editors' Choice
A Horn Book Fanfare Selection
A BCCB Blue Ribbon Selection
A Chicago Public Library Best Book
A Boston Public Library Best Read
A New York Public Library Best Book
A Goodreads Choice Finalist
A Book Riot Best Book
An Autostraddle Best Book
A YALSA Best Fiction for Young Adults Top Eleven Title
Winer of the Chinese American Library Association Award for Best Young Adult Book
Kids's Book Choice Teen Book of the Year