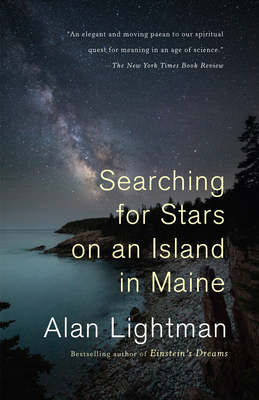 Searching for Stars on an Island in Maine
Publication Date:
February 19th, 2019
Usually Ships in 1 to 5 Days
Description
From the bestselling author of Einstein's Dreams—"an elegant and moving paean to our spiritual quest for meaning in an age of science" (The New York Times Book Review). • The basis for the public television series SEARCHING with Alan Lightman.

As a physicist, Alan Lightman has always held a scientific view of the world. But one summer evening, while looking at the stars from a small boat at sea, Lightman was overcome by the overwhelming sensation that he was merging with something larger than himself—an eternal unity, something absolute and immaterial.
The result is an inspired, lyrical meditation from the acclaimed author of Einstein's Dreams that explores these seemingly contradictory impulses. Lightman draws on sources ranging from Saint Augustine's conception of absolute truth to Einstein's theory of relativity, and gives us a profound inquiry into the human desire for truth and meaning, and a journey along the different paths of religion and science that become part of that quest. This small but provocative book explores the tension between our yearning for certainty and permanence versus the modern scientific view that all things in the physical world are uncertain and impermanent.
Praise for Searching for Stars on an Island in Maine
"An elegant and moving paean to our spiritual quest for meaning in an age of science." —The New York Times Book Review
"Delightful. . . [Lightman's] elegant and evocative prose draws in the reader." —The Wall Street Journal
"Once again, this deft wordsmith has effortlessly straddled the divide between the hardest of the hard sciences and the nebulous world of existential doubts and longings." —Nature
 
"A lyrical and illuminating inquiry. . . . [Emerges] with that rare miracle of insight at the meeting point of the lucid and the luminous." —Brain Pickings
"Contemplative, elegant and open-minded, [Searching for Stars on an Island in Maine] is an engaging companion to understanding our longing for connection with the infinite." —Charleston Post and Courier
 
"This is a volume meant for savoring, for readerly ruminations, for thinking about and exploring one essay at a time. Lightman's illuminating language and crisp imagery aim to ignite a sense of wonder in any reader who's ever pondered the universe, our world, and the nature of human consciousness." —Publishers Weekly (starred review)
 
"An illuminating, deeply human book." —Booklist
 
"Lightman's artful and questioning narrative style easily conveys complex concepts from physics to philosophy. Both believers and nonbelievers will find much to ponder in this discussion of science and religion, which reads like a soothing meditation." —Library Journal