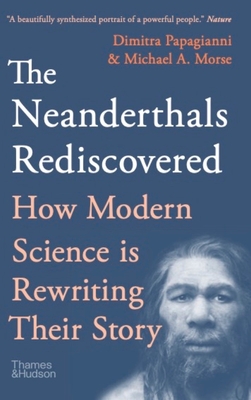 The Neanderthals Rediscovered: How Modern Science Is Rewriting Their Story (The Rediscovered Series)
Publication Date:
June 21st, 2022
Publisher:
Thames & Hudson
Usually Ships in 1 to 5 Days
Description
"The first complete chronological narrative of the species from emergence to extinction. . . .[A] gem." —Nature
Winner of the Society for American Archaeology Book Award, The Neanderthals Rediscovered is a fascinating study of the Neanderthals, informed by the latest scientific developments and discoveries, now available as an updated paperback.
The Neanderthals' story has been transformed thanks to new discoveries and paradigm-shattering scientific innovations. We can now trace their evolution in Europe and spread across Asia, study their DNA, and piece together how they lived and died.
Far from the old stereotypes, Neanderthals' behavior was surprisingly modern: they buried their dead, cared for their sick, hunted large animals, used red pigment, and spoke.
If Neanderthals were so advanced, why did they die out and Homo sapiens survive? By looking at the full Neanderthal story, we can better address the biggest mystery of all: what it means to be human.
Praise for The Neanderthals Rediscovered: How Modern Science Is Rewriting Their Story (The Rediscovered Series)
Has the fresh charm of treating human
evolution as a curious story that leads to
the Neanderthals, rather than as a moral
tale that rises ever upward and inevitably
to us godlike moderns.
— Harper's
[Written] with confidence and verve . . .
strikes an excellent balance between
broad popular appeal and satisfyingly
rich content.
— Society for American Archaeology