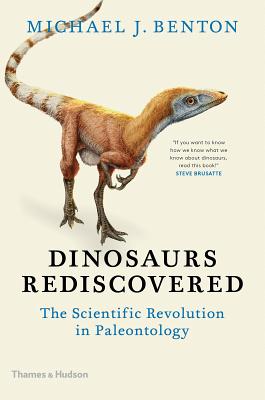 Dinosaurs Rediscovered: The Scientific Revolution in Paleontology (The Rediscovered Series)
Publication Date:
May 7th, 2019
Publisher:
Thames & Hudson
Special Order - Subject to Availability
Description
In this fascinating and accessible overview, renowned paleontologist Michael J. Benton reveals how our understanding of dinosaurs is being transformed by recent fossil finds and new technology.
Over the past twenty years, the study of dinosaurs has transformed into a true scientific discipline. New technologies have revealed secrets locked in prehistoric bones that no one could have previously predicted. We can now work out the color of dinosaurs, the force of their bite, their top speeds, and even how they cared for their young.
Remarkable new fossil discoveries—giant sauropod dinosaur skeletons in Patagonia, dinosaurs with feathers in China, and a tiny dinosaur tail in Burmese amber—remain the lifeblood of modern paleobiology. Thanks to advances in technologies and methods, however, there has been a recent revolution in the scope of new information gleaned from such fossil finds.
In Dinosaurs Rediscovered, leading paleontologist Michael J. Benton gathers together all the latest paleontological evidence, tracing the transformation of dinosaur study from its roots in antiquated natural history to an indisputably scientific field. Among other things, the book explores how dinosaur remains are found and excavated, and especially how paleontologists read the details of dinosaurs' lives from their fossils—their colors, their growth, and even whether we will ever be able to bring them back to life. Benton's account shows that, though extinct, dinosaurs are still very much a part of our world.
Praise for Dinosaurs Rediscovered: The Scientific Revolution in Paleontology (The Rediscovered Series)
Benton's prose is a model of science writing—energetic without being hyperactive, illustrative without loosing a swarm of irritating metaphors, alive to the reader's curiosity without pandering to the reader's ignorance.
— The New York Review of Books
I defy anyone who is, like me, a non-scientist to read it and not feel a sense of wonder.
— Tom Holland - The Guardian
In Dinosaurs Rediscovered, Michael J. Benton, a professor at the University of Bristol, takes us through what he calls a 'scientific revolution' in his field of paleontology. It is a fascinating story, and Mr. Benton tells it both expertly and entertainingly. … Mr. Benton's deeply engaging book instructively shows us, yet again, how advances in technology have converted mere speculation into testable science.
— The Wall Street Journal
Insightful… This enjoyable primer will leave layreaders with a new appreciation for how far modern science has come in understanding 'long-dead animals, represented now by skeletons and isolated bones.'
— Publishers Weekly
This engaging book by one of the field's most prominent paleontologists is as much about the evolution of dinosaur paleobiology as the evolution of dinosaurs themselves. Highly recommended for enthusiasts of these areas.
— Library Journal
A highly valuable resource for anyone with a serious interest in dinosaurs and an enjoyable read… The book is fertile ground for students and experts interested in paleontology.
— The Quarterly Review of Biology