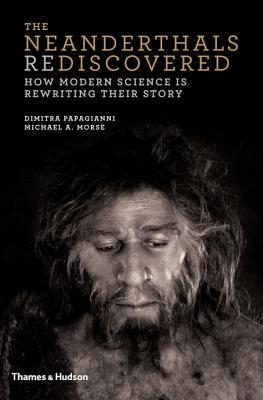 The Neanderthals Rediscovered: How Modern Science Is Rewriting Their Story (The Rediscovered Series)
Publication Date:
October 7th, 2013
Publisher:
Thames & Hudson
Special Order - Subject to Availability
Description
"Even-handed, up-to-date, and clearly written. . . . If you want to navigate between the Scylla and Charybdis of Neanderthal controversies, you'll find no better guide." —Brian Fagan, author of Cro-Magnon
In recent years, the common perception of the Neanderthal has been transformed thanks to new discoveries and paradigm-shattering scientific innovations. It turns out that the Neanderthals' behavior was surprisingly modern: they buried the dead, cared for the sick, hunted large animals in their prime, harvested seafood, and spoke. Meanwhile, advances in DNA technologies have forced a reassessment of the Neanderthals' place in our own past.
For hundreds of thousands of years, Neanderthals evolved in Europe very much in parallel to the Homo sapiens line evolving in Africa, and, when both species made their first forays into Asia, the Neanderthals may even have had the upper hand. Here, Dimitra Papagianni and Michael A. Morse look at the Neanderthals through the full dramatic arc of their existence—from their evolution in Europe to their expansion to Siberia, their subsequent extinction, and ultimately their revival in popular novels, cartoons, cult movies, and TV commercials.
Praise for The Neanderthals Rediscovered: How Modern Science Is Rewriting Their Story (The Rediscovered Series)
In the first complete chronological narrative of the species from emergence to extinction . . . archaeologist Dimitra Papagianni and science historian Michael Morse have shaped a gem.
— Nature
Papagianni and Morse explore various aspects of the biology, culture, and demise of the Neanderthals, helping to shed light on many of the myths and controversies . . . that had long surrounded this ancient and enigmatic group.
— The Underground Movement
Includes the most up-to-date findings and interpretations presented in the technical literature. . . .  Recommended.
— Choice
If
you want grounding in our current understanding of our human predecessors,
Papagianni, and PhD archaeologist and Morse . . . have written the book for you.
. . . Highly recommended.
— Library Journal
Readers learn that the common perception of the Neanderthals has been transformed due to new discoveries and paradigm-shattering scientific innovations.
— Museum Store Magazine
Focused squarely on the Neanderthals in their own right—how they lived, how they evolved, how they inhabited Europe for at least two hundred millennia. . . . The Neanderthals Rediscovered has the fresh charm of treating human evolution as a curious story that leads to the Neanderthals, rather than as a moral tale that rises ever upward and inevitably to us godlike moderns.
— Harper's