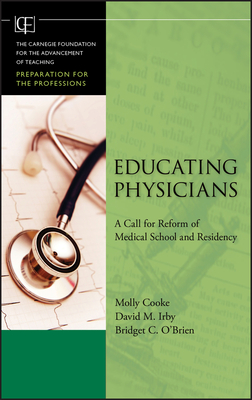 Educating Physicians: A Call for Reform of MedicalSchool and Residency (Jossey-Bass/Carnegie Foundation for the Advancement of Teach #16)
Publication Date:
June 1st, 2010
Usually Ships in 1 to 5 Days
Description
PRAISE FOR EDUCATING PHYSICIANS
"Educating Physicians provides a masterful analysis of undergraduate and graduate medical education in the United States today. It represents a major educational document, based firmly on educational psychology, learning theory, empirical studies, and careful personal observations of many individual programs. It also recognizes the importance of financing, regulation, and institutional culture on the learning environment, which suffuses its recommendations for reform with cogency and power. Most important, like Abraham Flexner's classic study a century ago, the report recognizes that medical education and practice, at their core, are profoundly moral enterprises. This is a landmark volume that merits attention from anyone even peripherally involved with medical education." --Kenneth M. Ludmerer, author, Time to Heal: American Medical Education from the Turn of the Century to the Era of Managed Care
"This is a very important book that comes at a critical time in our nation's history. We will not have enduring health care reform in this country unless we rethink our medical education paradigms. This book is a call to arms for doing just that." --George E. Thibault, president, Josiah Macy, Jr. Foundation
"The authors provide us with the evidence-based model for physician education with associated changes in infrastructure, policy, and our roles as educators. Whether you agree or not with their conclusions, if you are a teacher this book is a must-read as it will frame both what and how we discuss medical education throughout the current century." --Deborah Simpson, associate dean for educational support and evaluation, Medical College of Wisconsin
"A provocative book that provides us with a creative vision for medical education. Using in-depth case studies of innovative educational practices illustrating what is actually possible, the authors provide sage advice for transforming medical education on the basis of learning theories and educational research." --Judith L. Bowen, professor of medicine, Oregon Health & Science University.