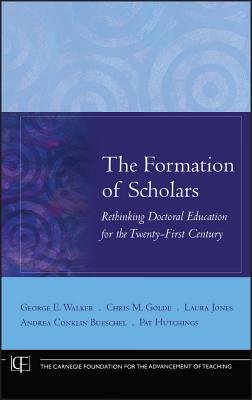 Formation of Scholars (Jossey-Bass/Carnegie Foundation for the Advancement of Teach #11)
Publication Date:
January 1st, 2008
Usually Ships in 1 to 5 Days
Description
This groundbreaking book explores the current state of doctoral education in the United States and offers a plan for increasing the effectiveness of doctoral education. Programs must grapple with questions of purpose. The authors examine practices and elements of doctoral programs and show how they can be made more powerful by relying on principles of progressive development, integration, and collaboration. They challenge the traditional apprenticeship model and offer an alternative in which students learn while apprenticing with several faculty members. The authors persuasively argue that creating intellectual community is essential for high-quality graduate education in every department. Knowledge-centered, multigenerational communities foster the development of new ideas and encourage intellectual risk taking.
About the Author
The Carnegie Foundation for the Advancement of Teaching (CFAT) is an independent policy and research center with a primary mission "to do and perform all things necessary to encourage, uphold, and dignify the profession of the teacher and the cause of higher education." CFAT is located in Stanford, California. George Walker is a senior scholar at CFAT, where he directs the Carnegie Initiative on the Doctorate. Walker, a theoretical physicist, was Vice President for Research and Dean of the Graduate School at Indiana University before joining CFAT. He has been active in many national organizations working on graduate education, including?the Council of Graduate Schools, an AAU Task Force, and the Council on Research Policy and?Graduate Education of NASULGC. Chris Golde has been a senior scholar at CFAT since 2001, working?on the Carnegie Initiative on the Doctorate. Prior to CFAT, she was a scientist and assistant professor at the University of Wisconsin, Madison and the principal investigator of the national Survey on Doctoral Education and Career Preparation, funded by the Pew Charitable Trusts and released as a report in January 2001. Pat Hutchings is vice president of CFAT. Hutchings joined the Foundation in February 1998 after serving as a senior staff member at the American Association for Higher Education (AAHE). She holds a doctorate in English from the University of Iowa and was chair of the English department at Alverno College before joining AAHE.