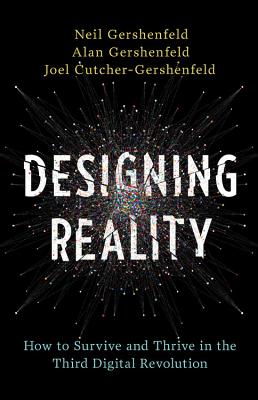 Designing Reality: How to Survive and Thrive in the Third Digital Revolution
Publication Date:
November 14th, 2017
The MIT Press Bookstore
2 on hand, as of Sep 26 1:27pm
(MITA)
On Our Shelves Now
Description
That's the promise, and peril, of the third digital revolution, where anyone will be able to make (almost) anything
Two digital revolutions -- computing and communication -- have radically transformed our economy and lives. A third digital revolution is here: fabrication. Today's 3D printers are only the start of a trend, accelerating exponentially, to turn data into objects: Neil Gershenfeld and his collaborators ultimately aim to create a universal replicator straight out of Star Trek. While digital fabrication promises us self-sufficient cities and the ability to make (almost) anything, it could also lead to massive inequality. The first two digital revolutions caught most of the world flat-footed, thanks to Designing Reality that won't be true this time.
Praise for Designing Reality: How to Survive and Thrive in the Third Digital Revolution
"Designing Reality delivers a thought-provoking dialogue with relevance for other emerging technologies as well as digital fabrication. The Gershenfelds engagingly alert us not only to the opportunities that digital fabrication presents but also to the societal and governance challenges that the widespread diffusion of this technology will generate."—Science
"In Designing Reality, the brothers Gershenfeld have provided a compelling roadmap for how accelerating technology will merge the digital and physical worlds (bits and atoms) and drive the next stage in our evolution as a species."—Ray Kurzweil, Inventor, Author and Futurist, author of The Singularity is Near and How to Create a Mind
"If the last 70+ years have told the story of atoms converted into bits, then the next will tell the story of bits being turned back into atoms. The members of the Gershenfeld troika arm-wrestle their way through alternative future scenarios that highlight the possibilities and the challenges that computer-based fabrication offer. One could not ask for a better point-counter-point exploration of the Third Digital Revolution."—Vint Cerf, VP and Chief Internet Evangelist, Google
"Designing Reality is nothing less than a full-blown manifesto for ushering in the age of digital fabrication, the third leg of the digital revolution. Anchoring the authors' comprehensive vision is the exponential growth of fab labs, a globally extant collection of now over 1000 digital fabrication testbeds. Codifying the lessons learned from more than a decade of success and failure, they powerfully advocate for fab labs as a model for accelerating the growth of and universal access to digital fabrication for all humanity."—Justin Rattner, Chief Technology Officer, Intel Corporation (retired)
"Designing Reality is an invitation and roadmap for all of us to bring our talent, passion, and communities to proactively shape our shared future. At the core of the Fab movement is a network of humans working together in radical collaboration from every corner of the planet, growing creative confidence in themselves and others. Challenges abound today, as do opportunities; our author-trio invite us all into the mix, because if we include everyone, we can fix (nearly) everything. Opt-in -- yourself, your family, your community."—Megan J. Smith and Puneet Kaur Ahira , 3rd U.S. Chief Technology Officer, Entrepreneur, Engineer; Founder & CEO at shift7 Co-Founder & Chief Architect at shift7; former White House, Google, Goldman Sachs
"Bhutan's biggest constraint in promoting Gross National Happiness (GNH), our development philosophy, is its heavy reliance on imports at the end of long supply chains. Designing Reality shows that digital fabrication can overcome this constraint by allowing us to fabricate locally while thinking globally and being true to the principles of GNH. We look forward to Bhutan becoming not just a Fab City, but a Fab Country."—Tshering Tobgay, Prime Minister of Bhutan
"Providing universal access to digital fabrication is one of the most important challenges and opportunities of our time. Designing Reality is a manual describing what it is, why it is important, and how to get there."
—Congressman Bill Foster, Ph.D.
"In this mind-altering book, the Gershenfelds envision a future of making things that's not dominated by big factories and powerful companies. Instead, it's centered around local innovators using powerful tools to design and build the realities they want. If this sounds good to you, here's the blueprint for making it happen."—Andrew McAfee, MIT Scientist and co-author of The Second Machine Age
"Ordinary people can now create objects with almost arbitrary levels of complexity, in large part because of the Gershenfelds' insights and leadership. Designing Reality is a must-read for anyone who wants to understand this revolution and its implications."—Erik Brynjolfsson, Director MIT Initiative on the Digital Economy and co-author of The Second Machine Age and Machine, Platform, Crowd
"Designing Reality is more than a deep look into the future of making things, it's a sobering (yet entertaining) reflection on how we will need to design society to accommodate the wholesale changes that these technologies are certain to bring. The Gershenfelds have fused their talents to provide a clear picture of how digital materials will come to pass, while addressing the needed transformation in the social sciences if we are to avoid uneven distribution of the benefits. The book offers a highly probable account of a future where error-correcting self-assembly will allow anyone to make (almost) anything."—James A. Warren, Physicist and Director of the Materials Genome Program