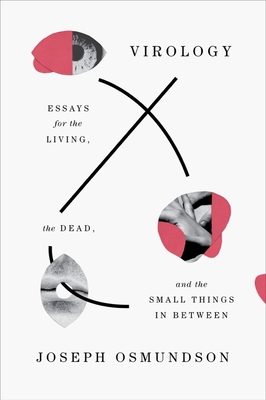 Virology: Essays for the Living, the Dead, and the Small Things in Between
Publication Date:
June 7th, 2022
Publisher:
W. W. Norton & Company
The MIT Press Bookstore
1 on hand, as of Nov 30 10:32am
(BIOMD)
On Our Shelves Now
Description
Finalist for the National Book Critics Circle Award in Nonfiction
Named a Most Anticipated Book of 2022 by Literary Hub
A leading microbiologist tackles the scientific and sociopolitical impact of viruses in eleven striking essays.
Invisible in the food we eat, the people we kiss, and inside our own bodies, viruses flourish—with the power to shape not only our health, but our social, political, and economic systems. Drawing on his expertise in microbiology, Joseph Osmundson brings readers under the microscope to understand the structure and mechanics of viruses and to examine how viruses like HIV and COVID-19 have redefined daily life.
Osmundson's buoyant prose builds on the work of the activists and thinkers at the forefront of the HIV/AIDS crisis and critical scholars like José Esteban Munoz to navigate the intricacies of risk reduction, draw parallels between queer theory and hard science, and define what it really means to "go viral." This dazzling multidisciplinary collection offers novel insights on illness, sex, and collective responsibility. Virology is a critical warning, a necessary reflection, and a call for a better future.
Praise for Virology: Essays for the Living, the Dead, and the Small Things in Between
Osmundson writes with the disarming voice of that teacher who makes science cool, even radical. His thought is discursive, his questioning accretive. He contains — and covers — multitudes: How are white people to stop spreading the lethal disease of "whiteness"? How does capitalism limit the imagination? Is evolution quintessentially queer? The task of following his leaps and swerves, while occasionally challenging, is its own reward, a chance to collaborate with a mind at work.
— John Okrent - New York Times Book Review
Virology is a brilliant book, both playful and serious, showing us all how viruses live with us, as we live with them. Drawing on queer theory, Osmundson offers a way of understanding care in the midst of anguish and anxiety as well as desire and hope. The viral world is the ordinary world of life and death, of caring for one another in our vulnerability and persistence. This book explains the science of virology for our times, offering a compassionate education for all of us disoriented in pandemic times. This book is queer pedagogy at its best: non-patronizing, thoroughly smart, and full of urgent and caring knowledge that beckons us to get closer again with caution and passion.
— Judith Butler
Joe Osmundson's Virology is an incisive look at our relationship to earth's most plentiful life form — how we live with viruses and how viruses live in and through us. But more than this, it is a compelling examination of the tension between avoidance and exposure, safety and risk, preservation of the self and openness to evolution and change. This book is a potent medicine for our times.
— Lacy M. Johnson, author of The Reckonings
Joseph Osmundson's Virology made me gay for viruses. Seriously. Virology is a tour de force that uses queer theory to teach us about the science of viruses. Along the way, we are forced to reckon with the reality that far from being villainous little creatures, viruses are actually fascinating almost-life forms. Virology brilliantly revises the frameworks we use to talk about life in a world filled with viruses and reminds us that our relationship with science and scientific phenomena is always social.
— Chanda Prescod-Weinstein, author of The Disordered Cosmos
I have absolutely no idea how Osmundson made a book this timely, this timeless, this packed with contents and styles we aren't supposed to experience in one text. Virology is devastating in its soulful brilliance. Rigor just became cool as **** and pleasurable again.
— Kiese Laymon, author of Heavy
Inquisitive, bold, and lyrical, Virology offers a captivating and very queer look at our present moment through the lens of someone who knows more than most of us about the science behind our shared catastrophe.
— Melissa Febos, author of Girlhood
To read Joseph Osmundson's mind at work is such a pleasure. The tendrils of Virology go deep: to the pandemic, queerness, memes, futurity, and what it means to hold both love and despair, to live awake to both the world's beauty and its harm. This is a profoundly necessary, urgently of-the-moment collection, one I'll keep thinking about for a long time to come.
— Alex Marzano-Lesnevich, author of The Fact of a Body
The essays in Virology are beyond impressive. This is precision work, cutting and thoughtful, done with the deft hand of a wildly skilled writer. Joseph Osmundson has given us something precious with this important collection. It is a tribute to humanity. It is an ode to life.
— Kristin Arnett, author of With Teeth
Virology is a powerhouse of a collection, the work of a colossal mind, and these essays about viruses, risk, science, life, safety, queerness, and more are as urgent as they will prove lasting. Hallelujah for this book and for Joseph Osmundson.
— R.O. Kwon, author of The Incendiaries
Both [Joseph Osmundson's] science and his writing chops are on full display in this stunner of an essay collection, which elegantly illustrates how microscopically tiny viruses like COVID-19 and HIV, which lead a simple existence, can have enormously complicated effects on the sociopolitical (and ultimately interpersonal) human worlds. The way Osmundson draws meaning from a queer experience of viruses is incredibly moving, ultimately resulting in a rage-filled call to action. Not to mention, it's some of the most beautiful writing I've read in a long time.
— Sarah Neilson - them
Joseph Osmundson uses his training as a virologist to illustrate how viruses have shaped and will continue to shape our lives, with language that is gripping and straightforward. Scientifically sound and exceptionally perceptive
— David Vogel - Vulture
Osmundson has created a stunningly beautiful and important book.
— Sarah Neilson - Shondaland
Luckily, we have Joseph Osmundson—an actual virologist—who writes with elegance and insight about the intersection of the real and the metaphorical, moving through topics like the legacy of HIV/AIDS, the long-term impact of Covid variants, and the effects of a prolonged pandemic on our systems of power. This is very much a book of our times.
— Literary Hub
In this scrupulous and impassioned manifesto, Osmundson, a microbiologist and activist (and podcaster!), looks at the nature of disease—and its impact on individuals and communities—through a distinctly queer lens.
— Michelle Hart - Electric Literature
A unique and singular archive of COVID-19 (SARS-CoV-2), HIV/AIDS, queer theory, sociopolitical criticism, and a record of the viruses that are present in our guts, on our skin, and in our blood…Osmundson turns hard science into juicy, racy-queer reality accessible to anyone who decides to buy the book, read it, and live it.
— Mark William Norby - Bay Area Reporter
This wide-ranging collection of essays is a meditation on society's complicated relationship with viruses. In pondering SARS-CoV-2, HIV and more, Osmundson calls for more equitable access to medical care.
— Science News (a Top Book of 2022)
Joseph Osmundson brings both his background in microbiology and a deft approach to language to a meditation on how viruses have affected — and continue to affect — even the smallest of quotidian moments.
— Tobias Carroll - InsideHook
Virology is an ambitious book that succeeds in its efforts to shed light on viruses with science writing, yes, but also to shed light on the messy realities of life with queer theory, journey entries, archival data, personal essays, and above all else, naked honesty…The lessons I need — the lessons we all need — exist in this book.
— Vanessa Friedman - Autostraddle
A welcome, well-informed, queer-positive study of the blind spots a pandemic reveals.
— Kirkus (starred review)
Original and bubbling with curiosity, this is a masterful achievement.
— Publishers Weekly (starred review)
Osmundson writes with hope for a world where racial inequities are addressed and people treat each other with love and kindness. Just as viruses change and mutate, so, too, can people.
— Ragan O'Malley - Library Journal (starred review)
A collection that weaves together the raggedness of the personal with the chaos of the political, Virology will take its place next to Susan Sontag's Illness as Metaphor and Audre Lorde's The Cancer Journals as a model for cultural criticism. Sparkling prose, glittering insights, lucid thinking and accessible writing about sometimes difficult topics makes Virology a must-read. It's one of the best science and medicine books of the year.
— Bookpage (starred review)