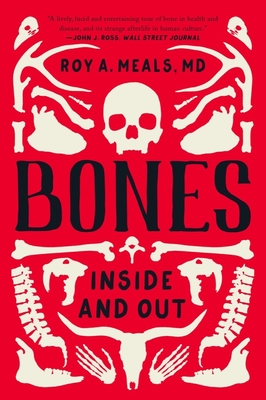 Bones: Inside and Out
Publication Date:
October 26th, 2021
Publisher:
W. W. Norton & Company
The MIT Press Bookstore
1 on hand, as of Sep 21 10:34am
(BIOMD)
On Our Shelves Now
Description
A lively, illustrated exploration of the 500-million-year history of bone, a touchstone for understanding vertebrate life and human culture.
Human bone is versatile and entirely unique: it repairs itself without scarring, it's lightweight but responds to stresses, and it's durable enough to survive for millennia. In Bones, orthopedic surgeon Roy A. Meals explores and extols this amazing material that both supports and records vertebrate life.
Inside the body, bone proves itself the world's best building material. Meals examines the biological makeup of bones; demystifies how they grow, break, and heal; and compares the particulars of human bone to variations throughout the animal kingdom. In engaging and clear prose, he debunks familiar myths—humans don't have exactly 206 bones—and illustrates common bone diseases, like osteoporosis and arthritis, and their treatments. Along the way, he highlights the medical innovations—from the first X-rays to advanced operative techniques—that enhance our lives and introduces the giants of orthopedic surgery who developed them.
After it has supported vertebrate life, bone reveals itself in surprising ways—sometimes hundreds of millions of years later. With enthusiasm and humor, Meals investigates the diverse roles bone has played in human culture throughout history. He highlights allusions to bone in religion and literature, from Adam's rib to Hamlet's skull, and uncovers its enduring presence as fossils, technological tools, and musical instruments ranging from the Tibetan thighbone kangling horn to everyday drumsticks. From the dawn of civilization through to the present day, humankind has repurposed bone to serve and protect, and even to teach, amuse, and inspire.
Approachable and entertaining, Bones richly illuminates our bodies' essential framework.
Praise for Bones: Inside and Out
Roy A. Meals is in love with bone, insofar as a man can be infatuated with calcified connective tissue. His new book is a valentine to what Dr. Meals calls 'the world's best building material,' taking us on a lively, lucid and entertaining tour of bone in health and disease, and its strange afterlife in human culture.
— John J. Ross - Wall Street Journal
[A] revealing, sometimes riveting and finely illustrated investigation, ranging from the dinosaurs to today.
— Andrew Robinson - Nature
Roy A. Meals has done for bone what Mark Kurlansky did for salt: he saw the possibilities in something that everyone takes for granted and made it into a star. This is a paean to bone, a scientific primer as well as a cultural history, composed by a master of his subject.
— Ross D. E. MacPhee, curator, American Museum of Natural History, and author of End of the Megafauna
Wide-ranging, deeply researched, and entertaining, Bones is a highly accessible examination of a complex topic. Roy A. Meals has a real knack for explaining complicated phenomena like bone growth, fractures, and healing in an imaginative, jargon-free manner. A must-read for anyone with a backbone.
— Bill Schutt, author of Cannibalism: A Perfectly Natural History
An engaging journey for readers that explores and explains the mysteries and wonders of the skeleton, illustrating the importance of bone in health and history in a wonderful storytelling style. Most informative and a real joy to read.
— Vernon Tolo, MD, former president, American Academy of Orthopaedic Surgeons