Discounted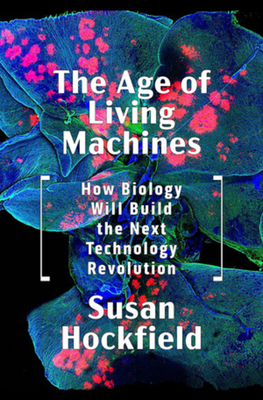 The Age of Living Machines: How Biology Will Build the Next Technology Revolution
Previous price:

$26.95
Current price:

$10.60
Publication Date:
May 7th, 2019
Publisher:
W. W. Norton & Company
Usually Ships in 1 to 5 Days
Description
From the former president of MIT, the story of the next technology revolution, and how it will change our lives.
A century ago, discoveries in physics came together with engineering to produce an array of astonishing new technologies: radios, telephones, televisions, aircraft, radar, nuclear power, computers, the Internet, and a host of still-evolving digital tools. These technologies so radically reshaped our world that we can no longer conceive of life without them.
Today, the world's population is projected to rise to well over 9.5 billion by 2050, and we are currently faced with the consequences of producing the energy that fuels, heats, and cools us. With temperatures and sea levels rising, and large portions of the globe plagued with drought, famine, and drug-resistant diseases, we need new technologies to tackle these problems.
But we are on the cusp of a new convergence, argues world-renowned neuroscientist Susan Hockfield, with discoveries in biology coming together with engineering to produce another array of almost inconceivable technologies—next-generation products that have the potential to be every bit as paradigm shifting as the twentieth century's digital wonders.
The Age of Living Machines describes some of the most exciting new developments and the scientists and engineers who helped create them. Virus-built batteries. Protein-based water filters. Cancer-detecting nanoparticles. Mind-reading bionic limbs. Computer-engineered crops. Together they highlight the promise of the technology revolution of the twenty-first century to overcome some of the greatest humanitarian, medical, and environmental challenges of our time.
Praise for The Age of Living Machines: How Biology Will Build the Next Technology Revolution
Entertaining and prescient....Hockfield demonstrates how nature's molecular riches may be leveraged to provide potential solutions to some of humanity's existential challenges.
— Adrian Woolfson - Science
Susan Hockfield's lively and authoritative book brings to life the bio-revolution that is coming and that will dwarf the computer revolution in causing disruption—for better and worse.
— Ashton B. Carter, former U.S. secretary of defense, director of the Belfer Center for Science and International Affairs, Harvard Kennedy School, and MIT Innovation Fellow
A highly readable and deeply informative look over the scientific horizon into a future where biology and engineering converge to offer extraordinary means to improve our world.
— Drew Gilpin Faust, president emerita and Lincoln Professor of History, Harvard University
Beautifully captures the science and the stories underpinning the convergence of biology and engineering as a transformative twenty-first century enterprise. One of those stories—biologically organized batteries—addresses the clean-energy revolution needed for mitigating climate change, capturing both of Hockfield's signature initiatives as MIT President.
— Ernest J. Moniz, former U.S. secretary of energy
Timely, provocative insights into ways the genomic and bioengineering revolution is likely to transform our world in the next half century as profoundly as computer chips powering the information revolution transformed the past fifty years.
— Graham Allison, Douglas Dillon Professor of Government, Harvard Kennedy School, and author of Destined for War: Can America and China Escape Thucydides's Trap?
Life sciences are at the doorstep of meeting the major challenges of our time: energy, food, water, and disease. Hockfield views this future through the eyes of scientists at the interface of engineering and biology in an exciting and enjoyable book.
— Phillip A. Sharp, winner of the Nobel Prize in Physiology or Medicine, Koch Institute for Integrative Cancer Research at MIT
An essential book for our fast-moving times. Hockfield covers an immense range of the emerging technologies that will reshape our lives. At the same time, she offers a crucial synthesis, much needed in an age of fragmentation. The result is a powerful reading experience, combining depth and clarity, and offering a generous supplement of hope.
— Vartan Gregorian, president of Carnegie Corporation of New York
Vibrant and accessible....What's especially exciting about the narrative is that much of the research Hockfield describes occurred as a result of her foresight and tenacity; her vision at MIT was to bridge disciplines in a manner similar to the pioneering work that was conducted at Bell Labs in the mid-20th century....In these uncertain times, Hockfield instills hope for an enriched and peaceful tomorrow. A thrilling, insightful, and highly readable work of popular science.
— Kirkus (starred review)
Data-rich yet accessibly written....Hockfield does a superb job of sharing the excitement and challenges associated with scientific investigation, while making the prospect of an impending 'era of unprecedented innovation and prosperity' seem that much more plausible.
— Publishers Weekly
Efficiently weaves in previous scientific discoveries and breakthroughs, current research, the mechanics behind each project, and engaging profiles of the individuals—engineers, physicians, botanists, inventors, and entrepreneurs—who are leading the way....A refreshing celebration of exciting things to come.
— Booklist