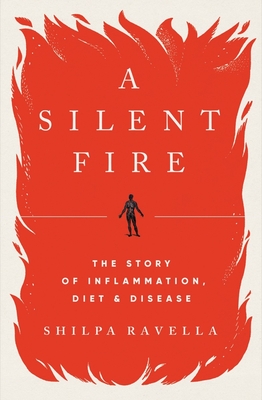 A Silent Fire: The Story of Inflammation, Diet, and Disease
Publication Date:
October 11th, 2022
Publisher:
W. W. Norton & Company
The MIT Press Bookstore
1 on hand, as of Nov 30 10:32am
(BIOMD)
On Our Shelves Now
Description
Shortlisted for the 2023 Phi Beta Kappa Award in Science
A riveting investigation of inflammation—the hidden force at the heart of modern disease—and how we can prevent, treat, or even reverse it.
Inflammation is the body's ancestral response to its greatest threats, the first line of defense it deploys against injury and foreign pathogens. But as the threats we face have evolved, new science is uncovering how inflammation may also turn against us, simmering underneath the surface of leading killers from heart disease and cancer to depression, aging, and mysterious autoimmune conditions.
In A Silent Fire, gastroenterologist Shilpa Ravella investigates hidden inflammation's emerging role as a common root of modern disease—and how we can control it. We meet the visionary nineteenth-century pathologist who laid the foundation for our modern understanding of inflammation, the eccentric Russian zoologist who discovered one of the cells central to our immune system, and the dedicated researchers advancing the frontiers of medical and nutritional science today. With fascinating case studies, Ravella reveals how we can reform our relationships with food and our microbiomes to benefit our own health and the planet's.
Synthesizing medical history, cutting-edge research, and innovative clinical practice, Ravella unveils inflammation as one potential basis for a unifying theory of disease. A paradigm-shifting understanding of one of the most mysterious, buzzed-about topics in medicine and nutrition, A Silent Fire shows us how to live not only long but well.
Praise for A Silent Fire: The Story of Inflammation, Diet, and Disease
Shilpa Ravella's deeply researched, far-ranging book shows us how inflammation links the pathologies of modern life. Even better, it lets us in on a practicing gastroenterologist's insights on the role of diet and what we can do to stop or even reverse the effects of 'inflammaging.' This necessary book has the power to change the way we think and eat.
— Amit Majmudar, MD, author of What He Did in Solitary
Inflammation is a double-edged sword that heals and destroys; it has already saved your life, but most likely will contribute to ending it.… Shilpa Ravella takes us on a grand tour of the medical science and the personal cases that have advanced our understanding of the whys and ways of this fundamental process.
— Martin J. Blaser, MD, author of Missing Microbes
A must-read for anyone interested in cutting-edge medicine. It is no exaggeration to say that low-level inflammation may be an insidious factor contributing to numerous diseases of aging, and Shilpa Ravella, a gastroenterologist with a writer's gift for translating complex science into clean, beautiful prose, is the perfect person to tell this gripping tale.
— Kathleen McAuliffe, author of This Is Your Brain on Parasites
A spellbinding tale taking us from the early Greek physicians to the COVID-19 pandemic.… The insights Ravella reveals point to a pathway that can enhance both our personal well-being today and that of the planet we pass on to our grandchildren.
— Walter C. Willett, MD, DrPH, professor of epidemiology and nutrition, Harvard T.H. Chan School of Public Health
Critical to our health is understanding how to stave off inflammatory diseases.… Shilpa Ravella makes this complex topic accessible and engaging, winding together a wonderful historical perspective with cutting-edge science.
— Justin Sonnenburg, coauthor of The Good Gut