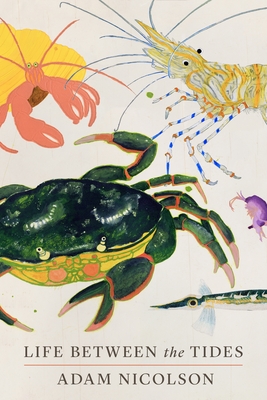 Life Between the Tides
Publication Date:
February 22nd, 2022
Publisher:
Farrar, Straus and Giroux
The MIT Press Bookstore
1 on hand, as of Dec 8 10:45am
(NATUR)
On Our Shelves Now
Description
Adam Nicolson explores the marine life inhabiting seashore rockpools with a scientist's curiosity and a poet's wonder in this beautifully illustrated book.
The sea is not made of water. Creatures are its genes. Look down as you crouch over the shallows and you will find a periwinkle or a prawn, a claw-displaying crab or a cluster of anemones ready to meet you. No need for binoculars or special stalking skills: go to the rocks and the living will say hello.
Inside each rock pool tucked into one of the infinite crevices of the tidal coastline lies a rippling, silent, unknowable universe. Below the stillness of the surface course different currents of endless motion—the ebb and flow of the tide, the steady forward propulsion of the passage of time, and the tiny lifetimes of the rock pool's creatures, all of which coalesce into the grand narrative of evolution.
In Life Between the Tides, Adam Nicolson investigates one of the most revelatory habitats on earth. Under his microscope, we see a prawn's head become a medieval helmet and a group of "winkles" transform into a Dickensian social scene, with mollusks munching on Stilton and glancing at their pocket watches. Or, rather, is a winkle more like Achilles, an ancient hero, throwing himself toward death for the sake of glory? For Nicolson, who writes "with scientific rigor and a poet's sense of wonder" (The American Scholar), the world of the rock pools is infinite and as intricate as our own.
As Nicolson journeys between the tides, both in the pools he builds along the coast of Scotland and through the timeline of scientific discovery, he is accompanied by great thinkers—no one can escape the pull of the sea. We meet Virginia Woolf and her Waves; a young T. S. Eliot peering into his own rock pool in Massachusetts; even Nicolson's father-in-law, a classical scholar who would hunt for amethysts along the shoreline, his mind on Heraclitus and the other philosophers of ancient Greece. And, of course, scientists populate the pages; not only their discoveries, but also their doubts and errors, their moments of quiet observation and their thrilling realizations.
Everything is within the rock pools, where you can look beyond your own reflection and find the miraculous an inch beneath your nose. "The soul wants to be wet," Heraclitus said in Ephesus twenty-five hundred years ago. This marvelous book demonstrates why it is so.
Includes Color and Black-and-White Photographs
Praise for Life Between the Tides
Named a New York Times Notable Book of 2022 and a TIME Must Read Book of 2022
"A master of exquisite, personable prose . . . Nicolson's books are unified by a similar impossible hankering—exquisitely expressed—for a more cohesive past, for all the things that premodern forms of social life and culture got right . . . Life Between the Tides thus tells a story that is not just about tidepools but even more so about the ways, barely remembered today, in which one might strive to live a life in sync with the rhythms of the land and the sea . . . a book as shimmeringly beautiful as any of his pools."—Christoph Irmscher, The Wall Street Journal
"[Life Between the Tides] evokes [the tide pools'] tiny inhabitants in lovely detail . . . Periwinkles smell the juices of their crab-killed comrades and flee into crevices. There's brutality here, but also brilliance—anemones, despite literal brainlessness, adeptly size up their rivals—and astonishing tenderness . . . Nicolson's at his best when he's focused on his precious littoral world." —Ben Goldfarb, The New York Times Book Review
"The thread that links Nicolson's books is precisely this – a philosopher's wish to provide a way of comprehending the place of the individual in a vast and shifting world, the quest for a good life, the search for new answers to old questions . . . Spending time in Nicolson's rock pool will change your life and the way you view the lives of others." —Alex Preston, The Guardian
"[Nicolson] succeeds gloriously in conveying the marvels of a stretch of Scottish tidal coast, mixing history, science, and precise descriptions bright with inventive metaphors and profound revelations." —Booklist (Starred Review)
"Nicolson brings capacious erudition and acute sensitivity to his intimate investigation of the ebb, the flow, and the teeming variety of life in tidal pools. Like William Blake, who saw the world in a grain of sand, Nicolson sees the universe, and humans' meaning within it, in that liminal, ever changing habitat . . . Illustrated with photographs and delicate drawings, [Life Between the Tides] is a marvel." —Kirkus Reviews (Starred Review)
"From the inner lives of prawns to the evil fairies of Morvern, Life Between the Tides is a thrillingly unclassifiable work of obsession and tenderness, introspection and deep observation. In rock pools dug with pickaxes and hammers, Adam Nicolson finds the entire universe reflected." —Nathaniel Rich, author of Second Nature
"Evocative . . . [Nicolson's] wonder is infectious, and he makes a convincing case that to better understand the sea, people must pay more attention . . . As poetic as it is enlightening, [Life Between the Tides] is tough to put down." —Publishers Weekly
"The rock pools, strands and beaches between us and the sea are vibrant interzones, endlessly renewed, full of life. They are fertile, fluid places, where humans, crustaceans, seabirds, cultures and dreams exist, constantly evolving before our eyes, changing sex and shape and meaning. In his miraculous new book, Adam Nicolson brings them all together, under his expert, writerly purview. Effortlessly, in deft, sure and delightful prose, he segues through species, science and art to present tidal nature as a microcosm. The result is an utterly fascinating glimpse of a watery world we only thought we knew." —Philip Hoare, author of Albert & the Whale
"Nicolson is the supreme poet of the edges—which is where the only interesting and significant things happen. And in Life Between the Tides—a book explicitly about the liminal places where everything is change—his talents are supremely on display. The shore confounds the whole notion of boundaries, and it takes a writer who himself despises and transgresses the traditional boundaries of 'science', 'philosophy', and 'art' to do justice to the shore. Nicolson brings all of himself to the foaming edge of the sea. No one else I know would have the nerve to do that. The result is a subversive, disconcerting triumph; a wondering, wonderful thing." —Charles Foster, author of Being a Beast and Being a Human
"If you like to gorge on words and ideas you could hardly hope for a finer feast than this. Nicolson serves up the nature and science of the seashore with a side order of human history and legend, seasoned beautifully with philosophical insight and a pinch of autobiography. For dessert, there's even a generous slice of the meaning of life. If it sounds a bit rich, don't worry. It's all so delicious you'll find room for it." —Hugh Fearnley-Whittingstall
"Adam Nicolson takes the margins between land and water, poetry and biology, and creates a beautiful, powerful story of how we understand the unfolding change of the shore. This is a remarkable and powerful book, the rarest of things, both a call-to-arms and a call-to-pause and truly look. Nicolson is unique as a writer, happy soaked to the skin on the shoreline and happy unweaving skeins of philosophy. I loved it." —Edmund de Waal, author of Letters to Camondo