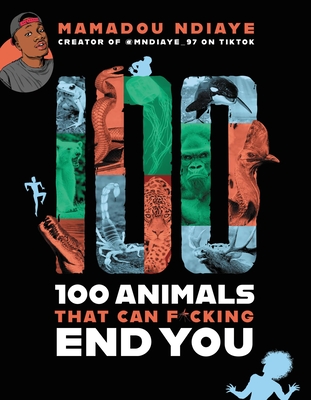 100 Animals That Can F*cking End You
Publication Date:
July 5th, 2022
The MIT Press Bookstore
1 on hand, as of Dec 8 10:45am
(NATUR)
On Our Shelves Now
Description
A wittily informative field guide to the deadliest animals on Earth from "AnimalTok" star @mndiaye_97
Ever wonder how to tell if a moose is about to subtract you? Curious why you should be terrified of cassowaries, the "velociraptor that time forgot?" Questioning whether that cute baby hippo is actually a homicidal maniac in the making? Yea, so was Mamadou Ndiaye . . . and now he's got your answers.
 
100 Animals That Can F*cking End You is the ultimate countdown to merk by animal, featuring everything from tiny bugs that can turn you into a hashtag to animals so massive they can murder you by accident. These include:
 
• The massive Southern elephant seal, which "is built like a truck with the personality of a Spring Break frat boy"
• Sperm whales with a call so strong it can vibrate you to death
• A golf-ball-sized octopus that can erase twenty-six people with one bite
• Hyenas, which have no qualms eating their prey while it is still alive
• A snake so quick it can strike you three times before you blink
You'll learn not only which animals to avoid, but which ones can beat you in a footrace, which ones create surprisingly high body counts, and which ones will give you a good reason never to venture into the ocean. Mamadou also offers the occasional survival tip, even if it is just to make peace with your higher power.
This dynamic, fact-filled, occasionally disturbing book is perfect for animal lovers and anyone perplexed by the natural world.
Praise for 100 Animals That Can F*cking End You
"In 100 Animals That Can F-cking End You, TikTok star Ndiaye (@mndiaye_97) lays out a convincing argument that there are plenty of reasons to fear everything from porcupines to giraffes. Considering the viral animal interactions that often end with humans being put in their place, it may be one of the most important books you'll read all year."—Mental Floss