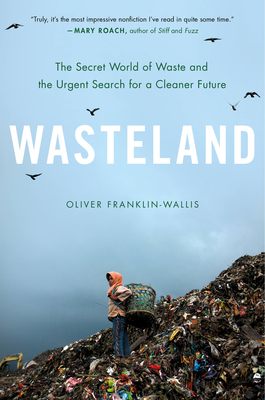 Wasteland: The Secret World of Waste and the Urgent Search for a Cleaner Future
Publication Date:
July 18th, 2023
Publisher:
Hachette Books
The MIT Press Bookstore
1 on hand, as of Nov 30 10:32am
(ENVST)
On Our Shelves Now
Description
An award-winning investigative journalist takes a deep dive into the global waste crisis, exposing the hidden world that enables our modern economy—and finds out the dirty truth behind a simple question: what really happens to what we throw away?
In Wasteland, journalist Oliver Franklin-Wallis takes us on a shocking journey inside the waste industry—the secretive multi-billion dollar world that underpins the modern economy, quietly profiting from what we leave behind. In India, he meets the waste-pickers on the front line of the plastic crisis. In the UK, he journeys down sewers to confront our oldest—and newest—waste crisis, and comes face-to-face with nuclear waste. In Ghana, he follows the after-life of our technology and explores the global export network that results in goodwill donations clogging African landfills. From an incinerator to an Oklahoma ghost-town, Franklin-Wallis travels in search of the people and companies that really handle waste—and on the way, meets the innovators and campaigners pushing for a cleaner and less wasteful future.  
 
With this mesmerizing, thought-provoking, and occasionally terrifying investigation, Oliver Franklin-Wallis tells a new story of humanity based on what we leave behind, and along the way, he shares a blueprint for building a healthier, more sustainable world—before we're all buried in trash.
Praise for Wasteland: The Secret World of Waste and the Urgent Search for a Cleaner Future
"With his investigative chops and contagious curiosity, Oliver Franklin-Wallis has cracked wide a dozen hidden, jaw-dropping worlds. … Yet despite its grim revelations, the book offers hope—for we can't begin to make things right until we understand the nuanced realities of what is wrong. Wasteland is compelling, smart, fair, often funny, always interesting, and just f*ing important. Truly, it's the most impressive nonfiction I've read in quite some time."—Mary Roach, author of Stiff and Fuzz
"Sometimes it seems as if our main role as humans is to enjoy shiny things for a little while until they become discarded things. This is a fascinating and comprehensive tour of the second half of that equation – the tossed-out usually gets a thousandth the attention of the not-yet-purchased, but Oliver Franklin-Wallis does his best to redress that balance, in a book that wills you see the world quite differently than you did before."—Bill McKibben, author of The End of Nature
"Just as everything we consume comes from somewhere on earth, so too everything we produce must go somewhere on earth—even if we don't want to think about it. This book compels us to. A fascinating, deeply researched, and hugely important exposé of what happens to the stuff we no longer want, and the social and environmental cost of dealing with it. Revelatory, thoughtful, and honest about our complex relationship with waste."—Gaia Vince, award-winning journalist and author of Transcendence and Nomad Century
"An urgent, probing and endlessly interesting investigation into our staggering wastefulness and the environmental crisis this is creating right under our noses. In Wasteland, Oliver Franklin-Walls offers us a behind the scenes guide to the processing plants, rubbish tips and refuse mountains that lurk in our back yards; the thundering machinery and skilled workers who strive tirelessly to relieve us of the spoils of our own profligacy. As he does so, he turns up rare treasures and unexpected beauties amid the junk and the mess. Tirelessly reported, it is a book both horrifying in its implications and gleefully hair-raising in the way it is told."—Cal Flynn, award-winning author of Islands of Abandonment and Thicker than Water
"Wise, honest, and unsparing, Wasteland will open your eyes to the reality of our throwaway society."—Henry Mance, award-winning interviewer and author of How to Love Animals
"Franklin-Wallis achieves the difficult feat of making an ostensibly mundane topic feel urgent, and the compassionate profiles effectively humanize a problem that's massive in scope. Additionally, his proposed solutions are well considered, including suggestions to "make greenwashing illegal" and hold companies responsible for the waste they produce, no matter where it ends up. It's a vital call to action."—Publisher's Weekly
"A sturdy outline of the future of toxic chemicals, microplastics, and endless garbage."—Kirkus Review
"As Franklin-Wallis also addresses the successes and limitations of recycling, Wasteland is an all-encompassing journey into what we throw away. The author's penetrating insight into how we both create and are threatened by this garbage shows the striking connection between humanity and our planet."—Booklist
July 2023 Must Read Book—Next Big Idea Club
"An eye-opening account of the global waste crisis—and how our throwaway culture is trashing the planet. ...Wasteland is an engaging read, and Franklin-Wallis writes in a personable style lightened by occasional touches of wit."—BookBrowse