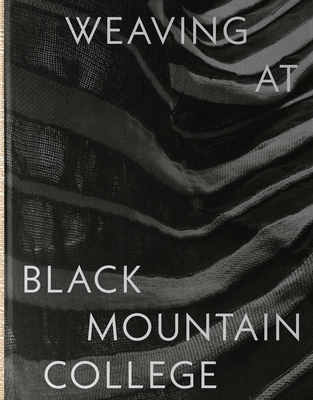 Weaving at Black Mountain College: Anni Albers, Trude Guermonprez, and Their Students
Publication Date:
October 31st, 2023
Publisher:
Black Mountain College Museum and Arts Center
Special Order - Subject to Availability
Description
A detailed study of the role and legacy of weaving at the legendary Black Mountain College
 
In the mid-twentieth century, Black Mountain College attracted a remarkable roster of artists, architects, and musicians. Yet the weaving classes taught by Anni Albers, Trude Guermonprez, and six other faculty members are rarely mentioned or are often treated as mere craft lessons. This was far from the case: the weaving program was the school's most sophisticated and successful design program. About ten percent of all Black Mountain College students took at least one class in weaving, including specialists like textile designers Lore Kadden Lindenfeld and Else Regensteiner, as well as students from other disciplines, like artists Ray Johnson and Robert Rauschenberg and architects Don Page and Claude Stoller. Drawing upon a wealth of unpublished material and archival photographs, Weaving at Black Mountain College rewrites history to show how weaving played a much larger role in the legendary art and design curriculum than previously assumed.
 
The book illustrates dozens of objects from private and public collections, many of which have never been shown in this context. Essays explore connections and networks fostered by Black Mountain weavers; the ways in which weaving at the college was linked to larger discourses about weaving and craft; and Bauhaus influences transmitted by way of Anni Albers. The book also includes works by five contemporary artists that connect and respond to the legacy of weaving at Black Mountain College today.
 
Distributed for the Black Mountain College Museum + Arts Center
 
Exhibition Schedule
 
Black Mountain College Museum + Arts Center, Asheville, NC
(September 29, 2023–January 6, 2024)
 
About the Author
Michael Beggs is a designer, artist, and independent scholar based in Berkeley, CA. Julie J. Thomson is an educator, independent scholar, and curator based in Black Mountain, NC.