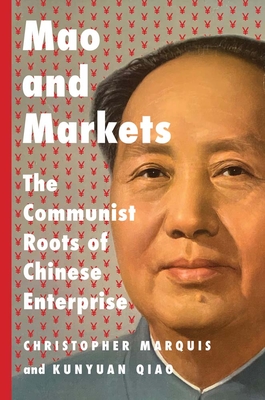 Mao and Markets: The Communist Roots of Chinese Enterprise
Publication Date:
November 15th, 2022
Publisher:
Yale University Press
The MIT Press Bookstore
1 on hand, as of Nov 30 10:32am
(ECON)
On Our Shelves Now
Description
A thoroughly researched assessment of how China's economic success continues to be shaped by the communist ideology of Chairman Mao
 
A Financial Times "Best Book of 2022"
 
Tied for the 2023 Axiom Gold Medal, sponsored by Axiom Business Book Awards
 
It was long assumed that as China embraced open markets and private enterprise, its state-controlled economy would fall by the wayside, that free markets would inevitably lead to a more liberal society. Instead, China's growth over the past four decades has positioned state capitalism as a durable foil to the orthodoxy of free markets, to the confusion of many in the West.
 
Christopher Marquis and Kunyuan Qiao argue that China's economic success is based on—not in spite of—the continuing influence of Communist leader Mao Zedong. They illustrate how Mao's ideological principles, mass campaigns, and socialist institutions have enduringly influenced Chinese entrepreneurs' business strategies and the management of their ventures. Grounded in case studies and quantitative analyses, this book shows that while private enterprise is the engine of China's growth, Chinese companies see no contradictions between commercial drive and a dedication to Maoist ideology.
Praise for Mao and Markets: The Communist Roots of Chinese Enterprise
"Many western observers believed that China was moving towards free market capitalism and hoped that it would become more democratic as a result. . . . This important book shows that such beliefs and hopes were always naïve."—Martin Wolf, Financial Times
"An important book at a crucial time for China's economy."—Lingling Wei, Wall Street Journal (on Twitter)
"[The authors] demonstrate that the enterprise and commercialism of China's 'economic miracle' has remained in step with Maoist thought, and square the circle of how a seemingly capitalist country could still be run by a communist Party."—Alec Ash, The Wire China
"A good look at the essential continuity in Chinese history between the Maoist period and the 'capitalist' period."—Tyler Cowen, Marginal Revolution (blog)
A Financial Times "Best Book of 2022"
Tied for the 2023 Axiom Gold Medal, sponsored by Axiom Business Book Awards
Finalist for the George R. Terry Award, sponsored by the Academy of Management
"Mao and Markets is an important blueprint for understanding how to do businesses in China. It is intellectually well grounded and offers important and practical advice for business leaders hoping to succeed in the Chinese market."—Craig Allen, president, US-China Business Council
 
"Mao and Markets is a richly detailed and timely book. It is well researched and thought-provoking, shedding light on not only Chinese business and entrepreneurship, but also politics, political leadership and how different generations of leaders will affect the future of China."—Cheng Li, director of John L. Thornton China Center, Brookings Institution
 
"Mao and Markets is the book to read if you want to do business in today's China. It has great insights on Xi Jinping's emerging 'China Model' that business will need to come to terms within the coming years."—James McGregor, chairman of APCO Worldwide's greater China region
 
"Capitalism and communism are entwined in China. Mao and Markets illuminates the connections between the history of the Chinese Communist Party and early leaders to the current Chinese economy and society. It will give insights not only to those who do business in China, but also for those interested in the nature of Chinese nationalism."—Rana Mitter, professor of the history and politics of modern China, University of Oxford
 
"Contributing to the lively debate over whether today's China is better understood as 'capitalist' or 'Communist,' Chris Marquis and Kunyuan Qiao offer an informed and engaging argument for the deep and enduring influence of Maoism on contemporary Chinese politics and economy."—Elizabeth J. Perry, Henry Rosovsky Professor of Government, Harvard University
"A compelling and provocative book. Marquis and Qiao dispel the naïve Western view that China is likely to conform with our system. Mao's legacy as an uncomfortable alternative deserves serious consideration."—Stephen Roach, author of Accidental Conflict: America, China, and the Clash of False Narratives
 
"Mao and Markets provides an important account of the long-term impact of Mao Zedong on Chinese business and society. The book unravels the puzzling relationship between the Chinese Communist Party and the private sector. It provides essential reading for those trying to understand China's development strategy today."—Tony Saich, Daewoo Professor of International Affairs, Harvard Kennedy School
 
"The authors illuminate a little-understood and often neglected aspect of modern China—the pervasive influence of Mao and Maoism in the country's supposedly capitalist business empires."—Jamil Anderlini, editor-in-chief, POLITICO Europe
 
"Mao's thinking about guerrilla warfare and ideology seems to have little to do with China's emerging digital economy; but as Marquis and Qiao point out in this highly readable new book, Maoism continues to shape the institutions governing the digital economy and inform the thinking of private entrepreneurs and officials in China. This insight, richly informed with case studies and survey data, provides an important and welcomed correction to widely held beliefs of the 'capitalist' economy in China."—Victor Shih, Ho Miu Lam Chair and associate professor, School of Global Policy and Strategy, University of California, San Diego
 
"Mao and Markets will be a valuable resource not just for scholars studying organizations and entrepreneurship but also for those in the general public who are interested in learning the history and trajectory of China's market development."—Eric Zhao, author of Optimal Distinctiveness