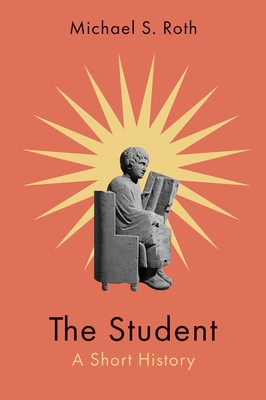 The Student: A Short History
Publication Date:
September 12th, 2023
Publisher:
Yale University Press
The MIT Press Bookstore
1 on hand, as of Dec 8 10:45am
(SS:ED)
On Our Shelves Now
Description
From the president of Wesleyan University, an illuminating history of the student, spanning from antiquity to Zoom
 
"[Roth] has a clear vision for what it ought to mean to be a student: Learn what you love to do, get better at it, and then share it with others."—David Perry, Washington Post
 
In this sweeping book, Michael S. Roth narrates a vivid and dynamic history of students, exploring some of the principal models for learning that have developed in very different contexts, from the sixth century BCE to the present.
 
Beginning with the followers of Confucius, Socrates, and Jesus and moving to medieval apprentices, students at Enlightenment centers of learning, and learners enrolled in twenty-first-century universities, he explores how students have been followers, interlocutors, disciples, rebels, and children becoming adults. There are many ways to be a student, Roth argues, but at their core is developing the capacity to think for oneself by learning from others, and thereby finding freedom.
 
In an age of machine learning, this book celebrates the student who develops more than mastery, cultivating curiosity, judgment, creativity, and an ability to keep learning beyond formal schooling. Roth shows how the student throughout history has been someone who interacts dynamically with the world, absorbing its lessons and creatively responding to them.
Praise for The Student: A Short History
"[Roth] has a clear vision for what it ought to mean to be a student: Learn what you love to do, get better at it, and then share it with others."—David Perry, Washington Post
"Roth defends an older ideal of what education is for—orienting and broadening your whole life as a free person. . . .[He] makes a compelling, patient, historical case for an education that breeds openness and generosity."—Todd Shy, Los Angeles Review of Books
"A brilliant exposition on students by an eminent scholar."—Claude Ury, Library Journal
"This lyrical and reflective book is for anyone who loves teaching and learning. Michael Roth shows how every great professor is a perpetual student and often the student is the best teacher. Whether discussing Confucius or W. E. B. Du Bois, Roth never loses sight of the ideals of growth, curiosity, attention—and even the power of passionate confusion—as the beating heart of learning. This is a welcome antidote to the hyperbolic critiques of youth in the mass media."—Cathy N. Davidson, author of The New Education
"Creating a roadmap for how to best prepare today's students to thrive in work, citizenship, and life, Roth offers an innovative look at what it means to be a good student and a good teacher."—Lynn Pasquerella, president, American Association of Colleges and Universities
"There are countless books about higher education but remarkably few about the people for whom that education is intended and around whose needs it should be built: students. Michael Roth writes engagingly and thoughtfully about what students have been, are, and should be. His work is a refreshing counterpoint to the oversimplified views of today's students so widespread in popular narratives."—Brian Rosenberg, president emeritus, Macalester College
"Every new generation of students seems to believe that studenthood starts with them. Michael Roth corrects this adorable misconception by recourse to history, showing that this feeling of a new beginning has rendered studenthood so potent across the ages. The Student is highly readable, packed with encyclopedic knowledge, and immensely instructive. The best teachers are those who remain students at heart, and Michael Roth has never ceased to be one."—Costica Bradatan, author of In Praise of Failure