Discounted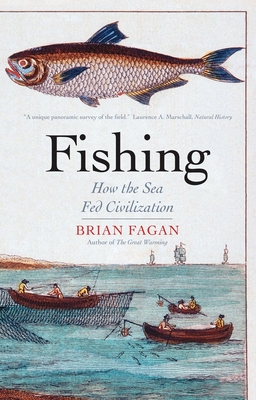 Fishing: How the Sea Fed Civilization
Previous price:

$19.00
Current price:

$18.00
Publication Date:
September 4th, 2018
Publisher:
Yale University Press
The MIT Press Bookstore
1 on hand, as of Dec 7 10:28am
(GAST)
On Our Shelves Now
Description
Humanity's last major source of food from the wild, and how it enabled and shaped the growth of civilization
In this history of fishing—not as sport but as sustenance—archaeologist and best-selling author Brian Fagan argues that fishing was an indispensable and often overlooked element in the growth of civilization. It sustainably provided enough food to allow cities, nations, and empires to grow, but it did so with a different emphasis. Where agriculture encouraged stability, fishing demanded movement. It frequently required a search for new and better fishing grounds; its technologies, centered on boats, facilitated movement and discovery; and fish themselves, when dried and salted, were the ideal food—lightweight, nutritious, and long-lasting—for traders, travelers, and conquering armies. This history of the long interaction of humans and seafood tours archaeological sites worldwide to show readers how fishing fed human settlement, rising social complexity, the development of cities, and ultimately the modern world.
Praise for Fishing: How the Sea Fed Civilization
"A tour-de-force. . . achieves its goal of putting fishing on par with hunter-gathering and agriculture in the history of human civilisation."—Leon Vlieger, Natural History Book Service
"Fishing is a valuable book as well as an interesting one. It shows vividly how human civilisations have depended on harvests from the sea. . . Fagan succeeds in providing an admirable primer for the enthusiast and a welcome tool for the historian."—Economist
"A unique panoramic survey of the field."—Laurence A. Marschall, Natural History
"Gently scholarly, elegant. . . . A compelling picture of how fishing was so integral in each society's development. A multilayered, nuanced tour of 'fishing societies throughout the world' and across millennia."—Kirkus Reviews
"Fishing's role in the development of civilization has not received the kind of merit that history bestows upon hunting and farming. . . Highly recommended for readers interested in archaeology, anthropology, ecology, and environmental science."—Jeffrey Meyer, Library Journal
"Fagan admits that his accomplishments as a fisherman are modest, but he is a first-rate archaeologist and the author of forty-six books . . . Fagan's work reminds us that sometimes even the most sophisticated archaeological studies miss very big things."—Tim Flannery, New York Review of Books
"Fagan takes a formidable topic and makes it accessible to the general reader. . . . What Mark Kurlansky did in Salt, Brian Fagan does in Fishing."—Tavi Prugno, Cape Cod Chronicle
"Elegant and sweeping in scope, Brian Fagan's Fishing: How the Sea Fed Civilization is a timely publication on an important yet often overlooked topic."—Konrad A. Antczak, Historical Archaeology
"The history of fishing predates our own species. . . . This is the remarkable story that Brian Fagan tells."—Kathryn Lang, Origins
"[Fagan's] latest book is a must read for anyone interested in maritime history. . . . There is much to admire in this book. . . . Fishing deserves a wide audience."—Christopher P. Magra, The Northern Mariner
"Brian Fagan's compelling treatise reveals the vital role of fish and shellfish in the rise of human civilizations. A stunning achievement."—William H. Marquardt, Florida Museum of Natural History
"From simple technology and subsistence to sophisticated trawlers harvesting for global distribution, fishing has shaped economies, diets and empires. This compelling narrative is a must read for everyone interested in humanity's journey, as seen through the use of its last remaining wild food resource."—Sophia Perdikaris, Brooklyn College and GC CUNY
"A vastly illuminating, deep and worldwide history of fishing and marine foraging. We've waited a long time for an archaeologist of Brian Fagan's breadth and leaning to show us that fishing is as important as farming in the story of mankind."—James C. Scott, author of Seeing Like a State