Discounted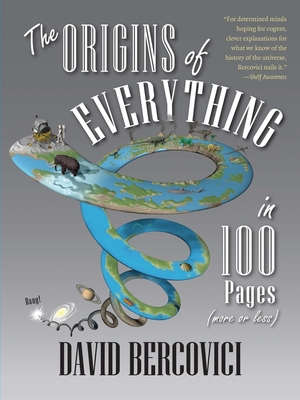 The Origins of Everything in 100 Pages (More or Less)
Previous price:

$13.95
Current price:

$13.00
Publication Date:
November 14th, 2017
Publisher:
Yale University Press
The MIT Press Bookstore
2 on hand, as of Dec 4 10:31am
(GS:CO)
On Our Shelves Now
Description
Covering 13.8 billion years in some 100 pages, a calculatedly concise, wryly intelligent history of everything, from the Big Bang to the advent of human civilization
With wonder, wit, and flair—and in record time and space—geophysicist David Bercovici explains how everything came to be everywhere, from the creation of stars and galaxies to the formation of Earth's atmosphere and oceans, to the origin of life and human civilization. Bercovici marries humor and legitimate scientific intrigue, rocketing readers across nearly fourteen billion years and making connections between the essential theories that give us our current understanding of topics as varied as particle physics, plate tectonics, and photosynthesis. Bercovici's unique literary endeavor is a treasure trove of real, compelling science and fascinating history, providing both science lovers and complete neophytes with an unforgettable introduction to the fields of cosmology, geology, genetics, climate science, human evolution, and more.
Praise for The Origins of Everything in 100 Pages (More or Less)
"For determined minds hoping for cogent, clever explanations for what we know of the history of the universe, Bercovici nails it."—Shelf Awareness
"Explaining life, the universe and everything in 100 pages may be a tall order, but physicist and volcano enthusiast Bercovici rises to the challenge. . . . Origins delivers on its promise—and (bonus!) it's even fun to read."—Discover magazine
"Bercovici excels in explaining how humans have come to learn so much information about all aspects of the universe."—Choice
Included on the 2017 Best Book List by the American Association for the Advancement of Science (AAAS)
"Clear, concise, comprehensive, and written with verve and a sense of humor, The Origins of Everything is a delightful journey through time from the big bang to the present day."—Doug Macdougall, author of Frozen Earth
"You cannot help but love Bercovici for unfolding the story of the universe in what feels like a friendly conversation over a glass of wine. His self-effacing humor belies a world-class depth of expertise."—Linda Elkins-Tanton, director of School of Earth and Space Exploration, Arizona State University
"We are stardust. David Bercovici's 'pocket guide' to the Universe unpacks that beautiful truth and explains what made our planet special. Here are one hundred pages that are rich with discovery and perspective."—Sean B. Carroll, author of The Serengeti Rules