Discounted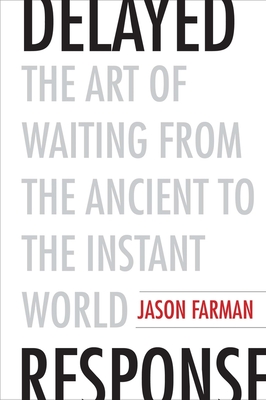 Delayed Response: The Art of Waiting from the Ancient to the Instant World
Previous price:

$30.00
Current price:

$28.00
Publication Date:
November 20th, 2018
Publisher:
Yale University Press
The MIT Press Bookstore
1 on hand, as of Dec 7 10:28am
(SS)
On Our Shelves Now
Description
A celebration of waiting throughout history, and of its importance for connection, understanding, and intimacy in human communication
We have always been conscious of the wait for life‑changing messages, whether it be the time it takes to receive a text message from your love, for a soldier's family to learn news from the front, or for a space probe to deliver data from the far reaches of the solar system. In this book in praise of wait times, award‑winning author Jason Farman passionately argues that the delay between call and answer has always been an important part of the message.
Traveling backward from our current era of Twitter and texts, Farman shows how societies have worked to eliminate waiting in communication and how they have interpreted those times' meanings. Exploring seven eras and objects of waiting—including pneumatic mail tubes in New York, Elizabethan wax seals, and Aboriginal Australian message sticks—Farman offers a new mindset for waiting. In a rebuttal to the demand for instant communication, Farman makes a powerful case for why good things can come to those who wait.
Praise for Delayed Response: The Art of Waiting from the Ancient to the Instant World
"In our frantic, overstimulated era, is it at all possible to be unruffled by red lights, buffering icons or the long lines at the DMV? Mr. Farman thinks so."—Emily Bobrow, Wall Street Journal
"[Farman's] account of wait times is certainly exhaustive, running the gamut of history, from Japanese smartphone messaging apps back to Aboriginal message sticks from 50,000 years ago. The book's longueurs, its digressions, and his pernickety academical style pale beside his main point, very well expressed, that 'the meaning of life isn't deferred until that thing we hope for arrives; instead, in the moment of waiting, meaning is located in our ability to recognise the ways that such hopes define us.' " —Simon Ings, The Daily Telegraph
"Farman proposes a radical shift of viewing time not as individual but as collective, which is inherently a radical act of empathy — the willingness to accept another's time as just as valuable as our own."—Maria Popova, Brain Pickings
"For those who want to understand the rich history and material culture of pauses and less-than-prompt rejoinders, Delayed Response is the book we've been waiting for."—Lydia Pyne, Los Angeles Review of Books
"Grounded in ongoing conversations in time and temporality studies, as well as technology, society, and media studies, Farman's book makes a crucial contribution in helping us understand 'negative' time, interstitial time—time of waiting, of delays, of uncertainties. . . . Pleasantly engaging to read."—Cynthia Wang, International Journal of Communication
"One of the most interesting and resonant explorations of contemporary media culture that I've read. Farman's wide-ranging, lively storytelling makes the book consistently engaging, and his argument for waiting as humanistic good is truly inspired."—William Powers, author of New York Times bestseller Hamlet's BlackBerry
"Jason Farman's timely and entertaining account explores the meaning of waiting and makes a compelling case that we should appreciate the shrinking space between sending and receiving messages. In an era of instant global communication, this book has arrived not a moment too soon."—Tom Standage, Deputy Editor, The Economist