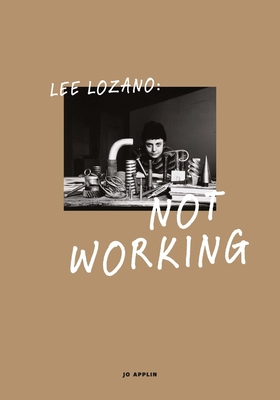 Lee Lozano: Not Working
Publication Date:
July 17th, 2018
Publisher:
Yale University Press
The MIT Press Bookstore
1 on hand, as of Nov 30 10:32am
(ART)
On Our Shelves Now
Description
An illuminating study of an overlooked artist from the 1960s whose work has recently returned to the limelight
This is the first in‑depth study of the idiosyncratic ten‑year career of Lee Lozano (1930–1999), assuring this important artist a key place in histories of post‑war art. The book charts the entirety of Lozano's production in 1960s New York, from her raucous drawings and paintings depicting broken tools, genitalia, and other body parts to the final exhibition of her spectacular series of abstract "Wave Paintings" at the Whitney Museum of American Art in 1970.
 
Highly regarded at the time, Lozano is now perhaps best known for Dropout Piece (1970), a conceptual artwork and dramatic gesture with which she quit the art world. Shortly afterwards she announced she would have no further contact with other women. Her "dropout" and "boycott of women" lasted until her death, by which time she was all but forgotten. This book tackles head‑on the challenges that Lozano poses to art history—and especially to feminist art history—attending to her failures as well as her successes, and arguing that through dead ends and impasses she struggled to forge an alternative mode of living. Lee Lozano: Not Working looks for the means to think about complex figures like Lozano whose radical, politically ambiguous gestures test our assumptions about feminism and the "right way" to live and work.
Praise for Lee Lozano: Not Working
 "Jo Applin's compelling and authoritative account of Lozano's artistic career combines meticulous research with a close reading of the work, never doubting its strength and intelligence." —Natalie Rudd, Times Literary Supplement
"Jo Applin grapples with the complexities and contradictions of Lozano's contentious work and life . . . [and] provides insights into the enigma of the artist."—Brenda Mitchell, Woman's Art Journal
"A well-researched and particularly clearly-written account of an artist whose career has puzzled almost everyone who has attempted to understand it."—Andrea Kirsh, Artblog
"Jo Applin's incisive book situates Lozano's enigmatic oeuvre within debates about artistic labour and work stoppage in the 1960s. Lucid and compelling, Lee Lozano: Not Working raises urgent questions about the stakes of feminist making, feminist refusal and feminist form."—Julia Bryan-Wilson, Professor of Modern and Contemporary Art, University of California, Berkeley