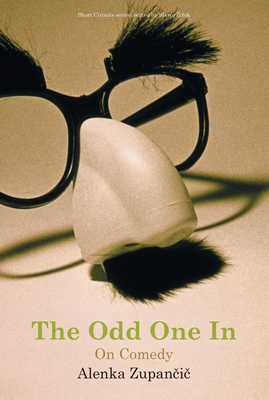 The Odd One In: On Comedy (Short Circuits)
Publication Date:
February 8th, 2008
Usually Ships in 1 to 5 Days
Description
A Lacanian look at how comedy might come to philosophy's rescue, with examples ranging from Hegel and Molière to George W. Bush and Borat.
Why philosophize about comedy? What is the use of investigating the comical from philosophical and psychoanalytic perspectives? In The Odd One In, Alenka Zupančič considers how philosophy and psychoanalysis can help us understand the movement and the logic involved in the practice of comedy, and how comedy can help philosophy and psychoanalysis recognize some of the crucial mechanisms and vicissitudes of what is called humanity.
Comedy by its nature is difficult to pin down with concepts and definitions, but as artistic form and social practice comedy is a mode of tarrying with a foreign object—of including the exception. Philosophy's relationship to comedy, Zupančič writes, is not exactly a simple story (and indeed includes some elements of comedy). It could begin with the lost book of Aristotle's Poetics, which discussed comedy and laughter (and was made famous by Umberto Eco's The Name of the Rose). But Zupančič draws on a whole range of philosophers and exemplars of comedy, from Aristophanes, Molière, Hegel, Freud, and Lacan to George W. Bush and Borat. She distinguishes incisively between comedy and ideologically imposed, "naturalized" cheerfulness. Real, subversive comedy thrives on the short circuits that establish an immediate connection between heterogeneous orders. Zupančič examines the mechanisms and processes by which comedy lets the odd one in.