Discounted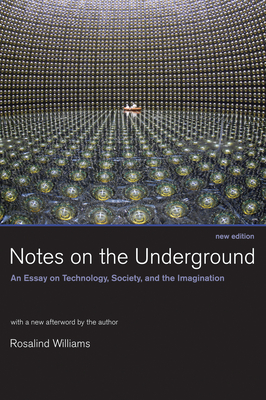 Notes on the Underground, new edition: An Essay on Technology, Society, and the Imagination
Previous price:

$30.00
Current price:

$23.95
Publication Date:
April 11th, 2008
The MIT Press Bookstore
1 on hand, as of Dec 7 10:28am
(STS)
On Our Shelves Now
Description
Real and imagined undergrounds in the late nineteenth century viewed as offering a prophetic look at life in today's technology-dominated world.
The underground has always played a prominent role in human imaginings, both as a place of refuge and as a source of fear. The late nineteenth century saw a new fascination with the underground as Western societies tried to cope with the pervasive changes of a new social and technological order. In Notes on the Underground, Rosalind Williams takes us inside that critical historical moment, giving equal coverage to actual and imaginary undergrounds. She looks at the real-life invasions of the underground that occurred as modern urban infrastructures of sewers and subways were laid, and at the simultaneous archaeological excavations that were unearthing both human history and the planet's deep past. She also examines the subterranean stories of Verne, Wells, Forster, Hugo, Bulwer-Lytton, and other writers who proposed alternative visions of the coming technological civilization. 
Williams argues that these imagined and real underground environments provide models of human life in a world dominated by human presence and offer a prophetic look at today's technology-dominated society. In a new essay written for this edition, Williams points out that her book traces the emergence in the nineteenth century of what we would now call an environmental consciousness—an awareness that there will be consequences when humans live in a sealed, finite environment. Today we are more aware than ever of our limited biosphere and how vulnerable it is. Notes on the Underground, now even more than when it first appeared, offers a guide to the human, cultural, and technical consequences of what Williams calls "the human empire on earth."
Praise for Notes on the Underground, new edition: An Essay on Technology, Society, and the Imagination
One can only be delighted that Notes on the Underground is again available in print. Great books can only remain classics if they are reread by new generations of readers. It is now possible to put Williams's book alongside other classics such as Leo Marx's The Machine in the Garden or Raymond Williams's The City and the Country. Notes on the Underground deserves to be added to this prestigious list of studies that continue to inspire all those who defend a holistic yet not necessarily homogeneous view of analyzing science and culture.—Jan Baetens, Leonardo—
What are the consequences when human beings dwell in an environment that is predominantly built rather than given? An uncommonly astute and provocative array of answers are examined through the metaphor of living underground, literally and in literature...A spellbinder.
—J. Baldwin, Whole Earth Review—
Williams has written a book that is clear and enjoyable...Notes on the Underground's moral imperative not only makes for fascinating criticism, but also encourages a rethinking of our ecological priorities.
—John Miller, Artforum—