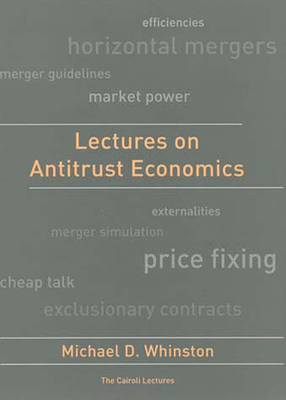 Lectures on Antitrust Economics (Cairoli Lectures)
This product is not returnable.
Publication Date:
January 25th, 2008
The MIT Press Bookstore
1 on hand, as of Dec 8 10:45am
(ECON)
On Our Shelves Now
Description
Antitrust law regulates economic activity but differs in its operation from what is traditionally considered "regulation." Where regulation is often industry-specific and involves the direct setting of prices, product characteristics, or entry, antitrust law focuses more broadly on maintaining certain basic rules of competition. In these lectures Michael Whinston offers an accessible and lucid account of the economics behind antitrust law, looking at some of the most recent developments in antitrust economics and highlighting areas that require further research. He focuses on three areas: price fixing, in which competitors agree to restrict output or raise price; horizontal mergers, in which competitors agree to merge their operations; and exclusionary vertical contracts, in which a competitor seeks to exclude a rival.
Antitrust commentators widely regard the prohibition on price fixing as the most settled and economically sound area of antitrust. Whinston's discussion seeks to unsettle this view, suggesting that some fundamental issues in this area are, in fact, not well understood. In his discussion of horizontal mergers, Whinston describes the substantial advances in recent theoretical and empirical work and suggests fruitful directions for further research. The complex area of exclusionary vertical contracts is perhaps the most controversial in antitrust. The influential "Chicago School" cast doubt on arguments that vertical contracts could be profitably used to exclude rivals. Recent theoretical work, to which Whinston has made important contributions, instead shows that such contracts can be profitable tools for exclusion. Whinston's discussion sheds light on the controversy in this area and the nature of those recent theoretical contributions.
Sponsored by the Universidad Torcuato Di Tella
About the Author
Michael D. Whinston is Robert E. and Emily H. King Professor of Business Institutions in the Department of Economics at Northwestern University. He is a coauthor of Microeconomic Theory.