Discounted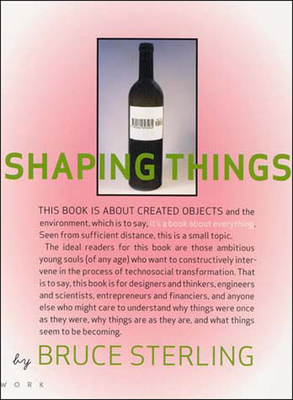 Shaping Things (Mediaworks Pamphlets)
Previous price:

$34.95
Current price:

$23.95
Publication Date:
October 7th, 2005
The MIT Press Bookstore
1 on hand, as of Sep 21 10:34am
(MEDIA)
On Our Shelves Now
Description
A guide to the next great wave of technology—an era of objects so programmable that they can be regarded as material instantiations of an immaterial system.
"Shaping Things is about created objects and the environment, which is to say, it's about everything," writes Bruce Sterling in this addition to the Mediawork Pamphlet series. He adds: "Seen from sufficient distance, this is a small topic."
Sterling offers a brilliant, often hilarious history of shaped things. We have moved from an age of artifacts, made by hand, through complex machines, to the current era of "gizmos." New forms of design and manufacture are appearing that lack historical precedent, he writes; but the production methods, using archaic forms of energy and materials that are finite and toxic, are not sustainable. The future will see a new kind of object; we have the primitive forms of them now in our pockets and briefcases: user-alterable, baroquely multi-featured, and programmable, that will be sustainable, enhanceable, and uniquely identifiable. Sterling coins the term "spime" for them, these future-manufactured objects with informational support so extensive and rich that they are regarded as material instantiations of an immaterial system. Spimes are designed on screens, fabricated by digital means, and precisely tracked through space and time. They are made of substances that can be folded back into the production stream of future spimes, challenging all of us to become involved in their production. Spimes are coming, says Sterling. We will need these objects in order to live; we won't be able to surrender their advantages without awful consequences.
The vision of Shaping Things is given material form by the intricate design of Lorraine Wild. Shaping Things is for designers and thinkers, engineers and scientists, entrepreneurs and financiers; and anyone who wants to understand and be part of the process of technosocial transformation.
Praise for Shaping Things (Mediaworks Pamphlets)
Now, with Shaping Things, design gets full-court consideration in a powerfully argued thesis tracking the profession's trajectory toward a new product order...On top of being one of the most strikingly insightful little volumes on the design shelves, Shaping Things, designed by Lorraine Wild, is one of the most originally and empathically crafted pieces of evidence that artifacts do evolve, and that designers may hold the keys to a more sophisticated relationship to the things around us we take for granted.—Architect's Newspaper—
Shaping Things is full of entirely readable large ideas, made palatable by Lorraine Wild's clean but evocative book design. The whole project exudes a confidence-building, you-too-can-be-an-architect-of-the-future tone, much like the work of Buckminster Fuller, who like Sterling was a practical visionary and often had to create a new language to describe his ideas...In the end, Shaping Things asks us to consider how we can create a sustainable future, using all the information available to us as consumers, without the preachiness that accompanies the environmental and sustainable lifestyle movements.
—Los Angeles Times Book Review—
Shaping Things is really about shaping experiences. Sterling brilliantly makes you more aware of experiences that your customers have—or don't have—with objects...Shaping Things presents a robust typology of technologies to inspire marketers and provoke innovators into rethinking their market offerings' essential qualities.
—Michael Schrage—
It's the most thought provoking thing I've read all year...I can tell that this is a book I'll return to again and again and get more out of it each time I do. It's a wonderful and timely work that is a must-read in an age of ubiquitous computation, universal information resources, and hacker-activist renaissance, there's no better primer for putting it all together.
—Cory Doctorow, BoingBoing—