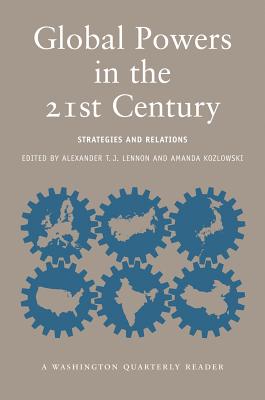 Global Powers in the 21st Century: Strategies and Relations (Washington Quarterly Readers)
Publication Date:
September 1st, 2008
Special Order - Subject to Availability
Description
Experts analyze the changing perspectives and objectives of global powers China, Japan, Russia, India, and the European Union in a strategic landscape shaped by the Iraq War.
Although the United States is considered the world's only superpower, other major powers seek to strengthen the roles they play on the global stage. Because of the Iraq War and its repercussions, many countries have placed an increased emphasis on multilateralism. This new desire for a multipolar world, however, may obscure the obvious question of what objectives other powerful countries seek. Few scholars and policymakers have addressed the role of the other major powers in a post-9/11 world. Global Powers in the 21st Century fills this gap, offering in-depth analyses of China, Japan, Russia, India, and the European Union in this new global context. Prominent analysts, including Zbigniew Brzezinski, C. Raja Mohan, David Shambaugh, Dmitri Trenin, Akio Watanabe, and Wu Xinbo, examine the policies and positions of these global players from both international and domestic perspectives. The book discusses each power's domestic politics, sources of power, post-9/11 changes, relationship with the United States, adjustments to globalization, and vision of its place in the world. Global Powers in the 21st Century offers readers a clear look at the handful of actors that will shape the world in the years ahead.
Contributors
Franco Algieri, Zbigniew Brzezinski, Yong Deng, Xenia Dormandy, Evan A. Feigenbaum, Michael J. Green, Robert E. Hunter, Edward J. Lincoln, Jeffrey Mankoff, C. Raja Mohan, Thomas G. Moore, Robin Niblett, George Perkovich, Gideon Rachman, Richard J. Samuels, Timothy M. Savage, Teresita C. Schaffer, David Shambaugh, Robert Sutter, Dmitri Trenin, Celeste A. Wallander, Akio Watanabe, Wu Xinbo