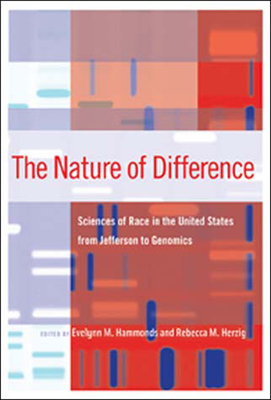 The Nature of Difference: Sciences of Race in the United States from Jefferson to Genomics
Publication Date:
January 23rd, 2009
Special Order - Subject to Availability
Description
A collection of wide-ranging primary source material that tracks the shifting relationships between race and science through two centuries of American history.
The Nature of Difference documents how distinctions between people have been generated in and by the life sciences. Through insightful commentaries and a wide-ranging selection of primary documents by the editors, it charts the shifting boundaries of science and race through more than two centuries of American history. The documents, primarily writings by authoritative, eminent scientists intended for their professional peers, show how various sciences of race have changed their object of study over time: from racial groups to types to populations to genomes and beyond. The book's thematic and synthetic approach reveals the profoundly diverse array of practices—countless acts of observation, quantification, and experimentation—that enabled the consequential categorizations we inherit.
The documents—most reproduced in their entirety—range from dictionary definitions of race published between 1886 and 2005 to an exchange of letters between Benjamin Baneker and Thomas Jefferson; from Samuel Cartwright's 1851 "Report on the Diseases and Physical Peculiarities of the Negro Race" to a 1950 UNESCO declaration that race is a social myth; from a 1928 paper detailing the importance of the glands in shaping human nature to a 2005 report of the discovery of a genetic basis for skin color. Such documents, given context by the editors' introductions to each thematic chapter, provide scholars, journalists, and general readers with the rich historical background necessary for understanding contemporary developments in racial science.
About the Author
Evelynn M. Hammonds is Dean of Harvard College and Barbara Gutman Rosenkrantz Professor of the History of Science and African and African American Studies at Harvard University. She is the author of Childhood's Deadly Scourge: The Campaign to Control Diphtheria in New York City, 1880-1930 and coeditor of The Harvard Sampler: Liberal Education for the Twenty-First Century.
Rebecca M. Herzig is Christian A. Johnson Professor of Interdisciplinary Studies at Bates College and the author of Suffering for Science: Reason and Sacrifice in Modern America.
Praise for The Nature of Difference: Sciences of Race in the United States from Jefferson to Genomics
Given the centrality of race to American history, The Nature of Difference offers readers relevant primary sources that they would not likely have come across on their own. With so much to offer The Nature of Difference should enrich the study and practice of history and science.—The Canadian Journal of History—