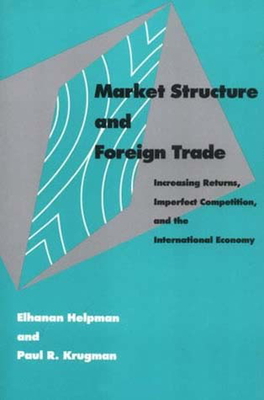 Market Structure and Foreign Trade: Increasing Returns, Imperfect Competition, and the International Economy
Publication Date:
February 6th, 1987
Special Order - Subject to Availability
Description
Market Structure and Foreign Trade presents a coherent theory of trade in the presence of market structures other than perfect competition. The theory it develops explains trade patterns, especially of industrial countries, and provides an integration between trade and the role of multinational enterprises.
Relating current theoretical work to the main body of trade theory, Helpman and Krugman review and restate known results and also offer entirely new material on contestable markets, oligopolies, welfare, and multinational corporations, and new insights on external economies, intermediate inputs, and trade composition.
About the Author
Elhanan Helpman is Professor of Economics at Harvard University, the Archie Sherman Chair Professor of International Economic Relations in the Eitan Berglas School of Economics at Tel-Aviv University, and a Fellow at the Canadian Institute for Advanced Research.
Paul Krugman is Professor of Economics and International Affairs at Princeton University and a New York Times columnist. He was awarded the Nobel Prize for Economics in 2008.
Praise for Market Structure and Foreign Trade: Increasing Returns, Imperfect Competition, and the International Economy
This book is a very substantial research monograph which, as one would expect from the authors, addresses fundamentally important and interesting questions with analytical elegance and clear exposition. It will be required reading for trade theorists and those seeking to become such.—Journal of Economic Literature—