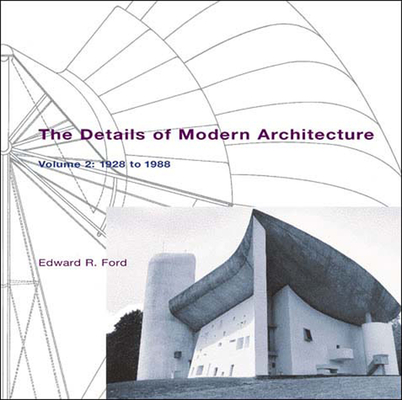 The Details of Modern Architecture, Volume 2: 1928 to 1988
Publication Date:
November 21st, 2003
Special Order - Subject to Availability
Description
This second volume of The Details of Modern Architecture continues the study of the relationships of the ideals of design and the realities of construction in modern architecture, beginning in the late 1920s and extending to the present day. It contains a wealth of new information on the construction of modern architecture at a variety of scales from minute details to general principles. There are over 500 illustrations, including 130 original photographs and 230 original axonometric drawings, arranged to explain the technical, aesthetic, and historical aspects of the building form.
Most of the modern movements in architecture have identified some paradigm of good construction, arguing that buildings should be built like Gothic cathedrals, like airplanes, like automobiles, like ships, or like primitive dwellings. Ford examines the degree to which these models were followed, either in spirit or in form, and reveals much about both the theories and techniques of modern architecture, including the extent to which the current constructional theories of High Tech and Deconstruction are dependent on the traditional modernist paradigms, as well as the ways in which all of these theories differ from the realities of modern building.
Individual chapters treat the work of Eliel and Eero Saarinen, Eric Gunnar Asplund, Richard Neutra, Alvar Aalto, Le Corbusier, and Louis Kahn, as well as the Case Study, High Tech, Postmodern, and Deconstructivist architects. Among the individual buildings documented are Eliel Saarinen's Cranbrook School, Asplund's Woodland Cemetery, Fuller's Dymaxion house, the Venturi house, the Eames and other Case Study houses, the concrete buildings of Le Corbusier, Aalto's Saynatsalo Town Hall, and Kahn's Exeter Library and Salk Institute—with many details published for the first time.
About the Author
Edward R. Ford is a practicing architect in Charlottesville, Virginia, and Associate Professor at the School of Architecture at the University of Virginia.
Praise for The Details of Modern Architecture, Volume 2: 1928 to 1988
This is a fine book and an invaluable reference.—David Wild, Architect's Journal—