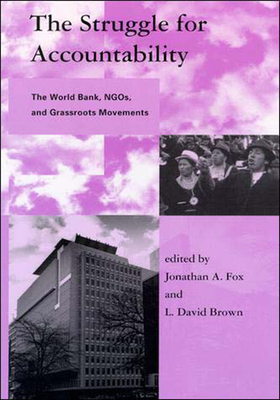 The Struggle for Accountability: The World Bank, NGOs, and Grassroots Movements (Global Environmental Accord: Strategies for Sustainability and Institutional Innovation)
Publication Date:
August 19th, 1998
Special Order - Subject to Availability
Description
After a history of funding environmentally costly megaprojects, the World Bank now claims that it is trying to become a leading force for sustainable development. For more than a decade, nongovernmental organizations (NGOs) and grassroots movements have formed transnational coalitions to reform the World Bank and the governments that it funds. The Struggle for Accountability assesses the efforts of these groups to make the World Bank more publicly accountable. The book is organized into four parts. Part I describes the NGOs and grassroots movements that are the book's central focus. Part II presents case studies of four projects that provoked the emergence of transnational advocacy coalitions: Indonesia's Kedung Ombo dam, the Mt. Apo geothermal plant in the Philippines, Brazil's Planaforo Amazon development project, and the remarkable campaign of Ecuador's indigenous people to influence national economic policy that led to their participation in the design of a development loan. Part III looks at the origins and politics of reform in four areas of broader World Bank policy: the rights of indigenous peoples, involuntary resettlement, water resources, and the World Bank's institutional reforms that are supposed to encourage public accountability. In the last section, the editors discuss issues of accountability within transnational coalitions and assess the impact of advocacy campaigns on World Bank projects and policies.
Contributors
L. David Brown, Jane G. Covey, Jonathan A. Fox, Andrew Gray, Margaret E. Keck, Deborah Moore, Antoinette Royo, Augustinus Rumansara, Leonard Sklar, Kay Treakle, Lori Udall, David A. Wirth.