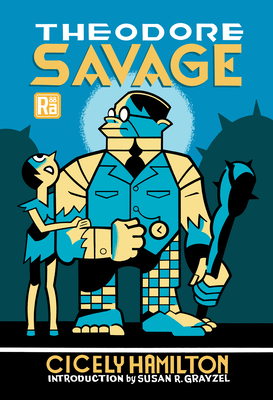 Theodore Savage (MIT Press / Radium Age)
Publication Date:
February 7th, 2023
The MIT Press Bookstore
3 on hand, as of Nov 30 10:32am
(SCIFI)
On Our Shelves Now
Description
From one of the earliest feminist science fiction writers, a novel that envisions the fall of civilization—and the plight of the modern woman in a post-apocalyptic wilderness.
When war breaks out in Europe, British civilization collapses overnight. The ironically named protagonist must learn to survive by his wits in a new Britain. When we first meet Savage, he is a complacent civil servant, primarily concerned with romancing his girlfriend. During the brief war, in which both sides use population displacement as a terrible strategic weapon, Savage must battle his fellow countrymen. He shacks up with an ignorant young woman in a forest hut—a kind of inverse Garden of Eden, where no one is happy. Eventually, he sets off in search of other survivors . . . only to discover a primitive society where science and technology have come to be regarded with superstitious awe and terror. A pioneering feminist, Hamilton offers a warning about the degraded state of modern women, who—being "unhandy, unresourceful, superficial"—would suffer a particularly sad fate in a postapocalyptic social order.
Praise for Theodore Savage (MIT Press / Radium Age)
Included in Tor.com's "Can't Miss Indie Press Speculative Fiction for January and February 2023"
"Written in the Interwar Period, Theodore Savage is a terrifying and prescient science fiction novel that's unflinching in its portrayal of the fragile scaffolding that supports "civilized" society."
—ForeWord Reviews, STARRED

"Prescient both to Hamilton's time and to the current moment of war, plague, and refugee crises, this novel deserves to be rediscovered. Readers will have much to chew on."
—Publishers Weekly
"Decades later, scores of novels about the aftermath of nuclear war would deploy a similar gambit; few are quite this effective."
—Los Angeles Review of Books
In Praise of the Radium Age Series:
"Joshua Glenn's admirable Radium Age series [is] devoted to early- 20th-century science fiction and fantasy."
—The Washington Post
"Long live the Radium Age."
—The Los Angeles Times
"It's an attractive crusade. […] Glenn's project is well suited to providing an organizing principle for an SF reprint line, to the point where I'm a little surprised that I can't think of other similarly high-profile examples of reprint-as-critical-advocacy. "
—The Los Angeles Review of Books

"Neglected classics of early 20th-century sci-fi in spiffily designed paperback editions."
—The Financial Times
"New editions of a host of under-discussed classics of the genre."
—Tor.com
"Shows that 'proto-sf' was being published much more widely, alongside other kinds of fiction, in a world before it emerged as a genre and became ghettoised."
—BSFA Review

"A huge effort to help define a new era of science fiction."
—Transfer Orbit
"An excellent start at showcasing the strange wonders offered by the Radium Age."
—Maximum Shelfs