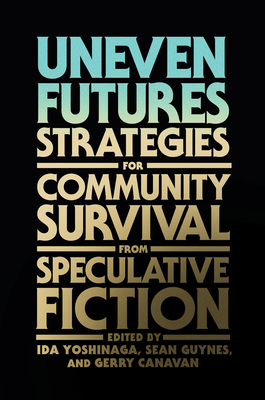 Uneven Futures: Strategies for Community Survival from Speculative Fiction
Publication Date:
December 20th, 2022
The MIT Press Bookstore
2 on hand, as of Sep 26 1:27pm
(ESSAY)
On Our Shelves Now
Description
Essays on speculative/science fiction explore the futures that feed our most cherished fantasies and terrifying nightmares, while helping diverse communities devise new survival strategies for a tough millennium.
The explosion in speculative/science fiction (SF) across different media from the late twentieth century to the present has compelled those in the field of SF studies to rethink the community's identity, orientation, and stakes. In this edited collection, more than forty writers, critics, game designers, scholars, and activists explore core SF texts, with an eye toward a future in which corporations dominate both the means of production and the means of distribution and governments rely on powerful surveillance and carceral technologies.
 
The essays, international in scope, demonstrate the diversity of SF through a balance of popular mass-market novels, comics, films, games, TV shows, creepypastas, and more niche works. SF works explored range from Riot Baby by Tochi Onyebuchi, 2084: The End of the World by Boualem Sansal, Terra Nullius by Claire Coleman, Watchmen and X-Men comics, and the Marvel film Captain America: The Winter Soldier, to the MaddAddam trilogy by Margaret Atwood, The Dispossessed by Ursula K. Le Guin, The Wandering Earth by Liu Cixin, and the Wormwood trilogy by Tade Thompson. In an era in which ecological disaster and global pandemics regularly expose and intensify deep political-economic inequalities, what futures has SF anticipated? What survival strategies has it provided us? Can it help us to deal with, and grow beyond, the inequalities and injustices of our times?
 
Unlike other books of speculative/science fiction criticism, Uneven Futures uses a think piece format to make its critical insights engaging to a wide audience. The essays inspire visions of better possible futures—drawing on feminist, queer, and global speculative engagements with Indigenous, Latinx, and Afro- and African futurisms—while imparting important lessons for political organizing in the present.
Contributors: Ben Abraham, Emmet Asher-Perrin, Brent Ryan Bellamy, Gerry Canavan, Andrew Ferguson, Fabio Fernandes, Dexter Gabriel, M. Elizabeth Ginway, Sean Guynes, Ouissal Harize, David M. Higgins, Veronica Hollinger, Allanah Hunt, Nicola Hunte, Nathaniel Isaacson, Ayana Jamieson, Darshana Jayemanne, Gwyneth Jones, Brendan Keogh, Sami Ahmad Khan, Cameron Kunzelman, Bryan Kamaoli Kuwada, Isiah Lavender III, Caryn Lesuma, Karen Lord, Sarah Marrs, Farah Mendlesohn, Cathryn Merla-Watson, Hugh Charles O'Connell, B. Pladek, John Rieder, Lysa Rivera, Kim Stanley Robinson, Steven Shaviro, Rebekah Sheldon, Alison Sperling, Alfredo Suppia, Bogi Takács, Taryne Jade Taylor, Sherryl Vint, Kirin Wachter-Grene, Ida Yoshinaga.
Praise for Uneven Futures: Strategies for Community Survival from Speculative Fiction
"A fascinating snapshot of what the science fiction community has become in the 2020s—as a multimedia genre, an area of academic study, a set of tropes to be made and remade by makers, or a form of political praxis."
—Los Angeles Review of Books
"An invigorating and wide-ranging intellectual wallop."
—H-Net Reviews