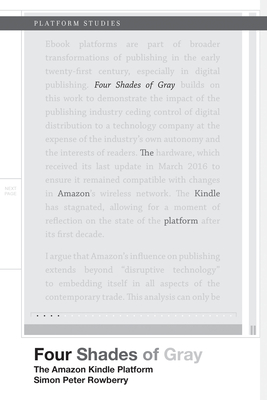 Four Shades of Gray: The Amazon Kindle Platform (Platform Studies)
Publication Date:
April 5th, 2022
Special Order - Subject to Availability
Description
This first book-length analysis of Amazon's Kindle explores the platform's technological, bibliographical, and social impact on publishing.
Four Shades of Gray offers the first book-length analysis of Amazon's Kindle and its impact on publishing. Simon Peter Rowberry recounts how Amazon built the infrastructure for a new generation of digital publications, then considers the consequences of having a single company control the direction of the publishing industry. Exploring the platform from the perspectives of technology, texts, and uses, he shows how the Kindle challenges traditional notions of platforms as discrete entities. He argues that Amazon's influence extends beyond "disruptive technology" to embed itself in all aspects of the publishing trade; yet despite industry pushback, he says, the Kindle has had a positive influence on publishing.
 
Rowberry documents the first decade of the Kindle with case studies of Kindle Popular Highlights, an account of the digitization of books published after 1922, and a discussion of how Amazon's patent filings reflect a shift in priorities. Rowberry argues that while it was initially convenient for the book trade to outsource ebook development to Amazon, doing so has had adverse consequences for publishers in the mid- and long term, limiting opportunities for developing an inclusive and forward-thinking digital platform. While it has forced publishers to embrace digital forms, the Kindle has also empowered some previously marginalized readerships. Although it is still too early to judge the long-term impact of ebooks compared with that of the older technologies of clay tablets, the printing press, and offset printing, the shockwaves of the Kindle continue to shape publishing.