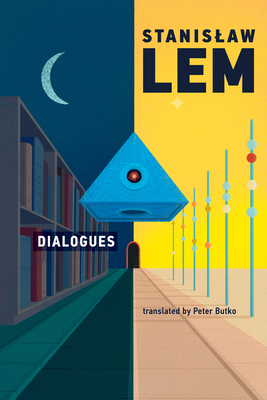 Dialogues
Publication Date:
September 28th, 2021
The MIT Press Bookstore
3 on hand, as of Sep 26 1:27pm
(ESSAY)
On Our Shelves Now
Description
The first English translation of a nonfiction work by Stanisław Lem, which was "conceived under the spell of cybernetics" in 1957 and updated in 1971.
In 1957, Stanisław Lem published Dialogues, a book "conceived under the spell of cybernetics," as he wrote in the preface to the second edition. Mimicking the form of Berkeley's Three Dialogues between Hylas and Philonous, Lem's original dialogue was an attempt to unravel the then-novel field of cybernetics. It was a testimony, Lem wrote later, to "the almost limitless cognitive optimism" he felt upon his discovery of cybernetics. This is the first English translation of Lem's Dialogues, including the text of the first edition and the later essays added to the second edition in 1971.
For the second edition, Lem chose not to revise the original. Recognizing the naivete of his hopes for cybernetics, he constructed a supplement to the first dialogue, which consists of two critical essays, the first a summary of the evolution of cybernetics, the second a contribution to the cybernetic theory of the "sociopathology of governing," amending the first edition's discussion of the pathology of social regulation; and two previously published articles on related topics. From the vantage point of 1971, Lem observes that original book, begun as a search for methods "that would increase our understanding of both the human and nonhuman worlds," was in the end "an expression of the cognitive curiosity and anxiety of modern thought."
Praise for Dialogues
"More than half a century ago, Stanislaw Lem gazed into the future and saw, rather than rockets or ray guns, the evolution of the synthetic mind and the humans creating it. Thanks to these translations, English-language readers can share in his vision—long after he first imagined the internet and its thinking machines." —The Wall Street Journal
"Dialogues is important now because it describes (or described, rather, more than half a century ago—you can almost hear Lem's slow hand-clapping from the Beyond) all the ways we do not comprehend the world we have made... Peter Butko's translations of the Dialogues, and the revisionist essays Lem added to the 1971 second edition, are as witty and playful as Lem's allusive Polish prose demands. His endnotes are practically a book in themselves (and an entertaining one too). Translated so well, Lem needs no explanation, no contextualisation, no excuse-making."—The Times (UK)